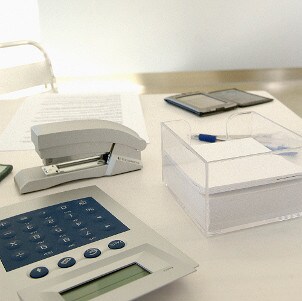 It takes a lot of work to keep an office going. And all that work -- the projects and the deadlines -- can burn through office supplies quickly. It's important to find great deals on discount office supplies to help keep your budget in check, especially when it comes to the basics. Here is a checklist of the essential discount office supplies that can help get the job done.
Discount Office Supplies:

Staplers and accessories: Whether you're just stapling a few sheets of printer paper or thick stacks of card stock, a durable stapler is a desktop necessity. A good way to save money on discount office supplies, like staples and staplers, is to buy them in bulk. You know you'll use them frequently, so why not stock up and save money in the long run?

Scissors and paper trimmers: Office cutting tools are another great category of discount office supplies. You don't need some cheap scissors, though. Pick up a durable pair of scissors or a quality paper trimmer. You'll get precise cuts the first time, reducing the amount of time people have to wait to use the supplies. Durable discount office supplies save you money in more places than just the business supplies budget. They also affect your productivity.

Tape and dispensers: It always seems like you run out of tape, just when you really need it. Make sure your tape dispenser is fully stocked and keep a few spare rolls in your desk drawer. You can find great deals on discount office supplies, like tape, by buying in bulk.

Paper fasteners: Butterfly clips, metal book rings and paper clips are kind of out of sight, out of mind, until you need them. You don't want to get caught without paper fasteners. You can get great deals on these discount office supplies by choosing longer shipping options and purchasing large quantities.

Mailroom supplies: Mailroom supplies go fast, especially when you do a lot of shipping and correspondence with clients and partners. Make sure you have plenty of envelopes, shipping labels, tape and packing materials. You can also save money by installing a digital postal scale and printing the precise postage every time. You'll spend less on postage and open up your budget for other discount office supplies.

Paper and stationary: This one may seem obvious, but it can be hard to judge how fast you go through reams of paper, especially during busy projects, when your mind is on more important things. Look for great deals on discount office supplies, like paper, stationary and notepads. When you find a good deal, stock up and you won't get caught unprepared for a busy workday.

Buy Office Supplies
Back to Guides Directory