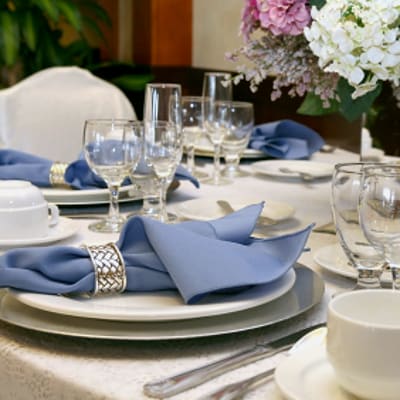 Dining Done Right
Whether you use your dining room for daily meals with your family or reserve it for holiday dinners, you'll want to make sure it's attractive and functional. If you're starting from scratch or if you only have one or two pieces, you may not know what to buy next. From the floor to the tabletop, a lot of elements need to come together to create the perfect dining room. These tips will help you with some of the more practical matters of setting up your dining room.
Dining Table
When you're shopping for a dining table, start by looking at size. The table should be proportionate to the room. If the table's too small, it will make the room feel empty and uninviting. If it's too big, the room will feel small and crowded. Rectangular tables are a classic choice that offers plenty of seating, but if you want your meals to be more focused on conversation, consider a round or oval table instead. A table that includes leaf inserts will let you adjust the table size to accommodate more or less people, depending on your needs.
Dining Chairs
Many dining chairs and tables come as a set, but sometimes it's up to you to find the matching pieces, and some people like to mix and match. If you're buying chairs separately, you'll want to make sure they're in proportion with the table. When seated, diners should be able to easily and comfortably reach their food. The table should hit just below mid-chest, and you should be able to easily scoot chairs under the table. Typically, the chairs at the ends of the dining table have arms, while the other chairs are armless. You can also put armless chairs at the heads of the table, but armed chairs may be too large to fit all the way around.
Table Settings
A formal table setting typically includes a dinner and salad plate; a water glass as well as a wine glass; flatware for all courses, from salad to dessert; and a dessert or bread-and-butter plate. That's a lot to fit into one place setting. Plan out your table by allowing 28-30 inches per place setting. This will give your guests plenty of room. If you need to add a leaf to your table to accommodate more place settings, that will help keep your guests from feeling too cramped.
Buffets & Hutches
You may want a place to store your formal dishes, tablecloths, and other items you frequently use in your dining area. China hutches are a great place to both store and display everything from china to crystal. Just like your table, your hutch should be sized in proportion to your room. You can often find one that matches your table and chairs. A buffet cabinet provides storage below for linens and flatware, and you can use the top for serving food at large parties where you may need additional space.
Area Rug
A rug beneath the dining table can really enhance the look of the room and help protect your floors from scraping chairs and spilled food. A rug should be large enough that the entire table and chairs fit on top of it. If it's too small, you won't be able to see it and it won't adequately protect your floor. Make sure that the rug is large enough to accommodate all the chairs when they're pulled out as well as pushed in. Additionally, smaller rugs, such as runners, can be used to protect areas that get a lot of foot traffic.
what shoppers are saying about dining at overstock™
Related product reviews

Sudbury Rug

VERIFIED PURCHASE

I am very pleased with this area rug and how it fits in my dinning room.

Great Quality!

VERIFIED PURCHASE

I was pleasantly surprised. It looks like a pricey dinning room.

HOT!!

VERIFIED PURCHASE

Great quality. Look great on my dinning room table

Sn, in Fl

VERIFIED PURCHASE

Love the chairs, it makes the dinning room looks so elegant

look and feel expensive

Look great in my kitchen or would even be good in a dinning room

Safaviek Porcello round rug

VERIFIED PURCHASE

the rug is just right for our dinning area but has wrinkles and will not flatten out.

Christopher Knight dinning chairs

VERIFIED PURCHASE

LOVE, LOVE.... These dinning chairs! Beautiful and nice quality.

Mr Roberto Vega

MY WIFE AND I WAS WAITING FOR THIS PARTICULAR DINNING SET

great chairs

VERIFIED PURCHASE

I use 6 of them for my dinning table chairs. orange color fits very well with my dinning table, brights the area. Good quality too.

Shop Other Events