Digital Picture Frame Buying Guide
by Staff Writer
As your digital photo collection grows, you may want to put them on display. With digital picture frames, you can display thousands of digital photos without making a single print. Think of these new camera accessories as a slide show in a frame or a wall-mounted digital picture album. This digital picture frames buying guide lets you know what to look for in a digital frame that will look great on your wall.
Buying Digital Photo Frames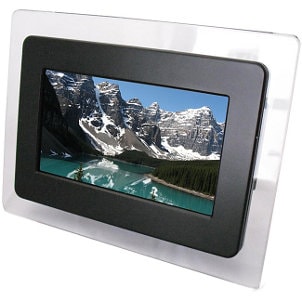 Shop Digital Picture Frames ▸
Beyond images

A digital picture frame is more than just a display screen. You can select LCD photo frames with video-playback ability and built-in speakers for audio or find a wireless digital photo frame that continuously cycles photos from your computer over your home wireless network.

Connector cables

USB cables and thumb drives are the most common way to transfer photos from your camera to your LCD digital photo frame, but you may find digital picture frames with slots for memory cards, Firewire cables and even Ethernet cables for connecting to a computer network.

Screen size

Just like TVs and computer monitors, LCD photo frames are measured diagonally. A 7-inch to 9-inch digital picture frame closely matches standard 4 x 6 or 5 x 7 photo prints. You may even find tiny digital frames that fit on a keychain. Larger digital picture frames reach into sizes of as much as 20 inches. The size you choose may depend on the space you have available for your digital frame and the distance you'll be viewing it from.

Frame

The frame surrounding the display screen can come in a variety of materials, colors and styles. Frames come in plastic, metal, wood and glass. Some digital picture frames feature interchangeable faceplates, allowing you to change the look to fit the surrounding decor.

Internal memory and memory cards

Most digital picture frames include anywhere from a few megabytes to several gigabytes of internal flash memory for storing photos, videos or audio files. You can further expand the storage capacity of your digital picture frame with memory cards. There are several types of memory cards, so you may want to check which card slots your digital picture frame has. You may even be able to use the same memory card that your digital camera uses. SDHC cards can store up to 32 GB of data, which is a lot of photos that your digital picture frame can cycle through.

Audio file types

Many digital frames now have small speakers so that they can play music with slide shows or as background music. Check to see whether your digital picture frame supports common audio-file formats, like MP3, WMA and WAV files.

Video file formats

It didn't take long for digital-frame makers to add video capabilities. As with audio files, your digital picture frame must be able to play video files, like AVI, ASF, DAT, MP4 and WMV files.

Bluetooth

If your digital picture frame and phone are Bluetooth-compatible, you can upload photos and other files directly from your camera phone to your digital frame.

Aspect ratio

Like HDTVs and computer screens, digital picture frames dimensions differ. If the aspect ratio of your digital frame closely matches the dimensions of the photo, the image will fill the whole screen without empty black space around the edges.

Standard (4:3): This ratio fits most photo print sizes. Normal photos will fill the entire digital picture frame.

Widescreen (16:9): This is the ratio for movies and many TV shows -- an important consideration if you plan to show videos as well as still photos.

Resolution

The resolution is the size in pixels of the screen image. You may see digital picture frame resolutions displayed with either an acronym or the numerical dimensions. Higher resolutions aren't as necessary for small digital frames, but as screen size increases, a high resolution can keep the image quality high and more detailed, even when viewing the digital picture frame up close. Here are the most common resolutions:

VGA (640x480): is crisp enough for small desktop screens.

SVGA (800x600): is a better choice for midsize screens.

WVGA (800x480): is SVGA in widescreen format.

XGA (1024x768): is for larger screens that need higher resolution.

WXGA (1280x800): is XGA in widescreen.

Digital picture frame care

Dust, heat and direct sunlight are the main elements that can cause wear and tear on electronics. There are a few things you can do to make your digital picture frame last. Wipe the frame and screen with a damp, lint-free cloth to remove dust. Use canned air to blow dust out of memory card slots and other openings. Avoid placing the digital picture frame in direct sunlight. An LCD digital picture frame will fade if exposed to sun for long periods. If your digital frame gets too hot, turn it off for a few hours to let it cool down.
Idea from Overstock™
Digital picture frames make great gifts. Load a bunch of photos onto a digital frame and send it off to family and friends. It's sure to be a hit with anyone.