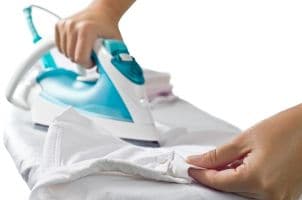 You probably use steam irons often to press your clothes for work, but why not put these pressing irons to work around your home? A cordless steam iron can remove wrinkles from your curtains, tablecloths and bedding as well as your clothes. Read on to discover different uses for steam irons.
Uses for Steam Irons:

Get wrinkles out of slipcovers. Remove those stubborn creases from your chair or sofa slipcovers with a regular clothes steam iron. While a cordless steam iron works best for ironing slipcovers already on your furniture, you can also remove them and press them on an ironing board. Turn slipcovers inside out before ironing them on a board, even when you're using the best steam iron; you don't want to risk scorching silk or suede fabric.

Freshen up your curtains. Give your drapes new life with a steam press iron. There's no need to take them off the rods; simply use your cordless steam press iron to glide up and down the panels, removing tough wrinkles and even improving dull colors as you clean. Buy steam irons that detach from the base to steam hard-to-reach valances for a fresh, clean set of curtains.

Use the fancy tablecloths again. If you've been storing your holiday tablecloths for awhile, don't worry -- you won't need a professional steam iron to get them looking like new. Simply buy steam irons you can use frequently for pressing clothes and use them to quickly smoothe the creases in your tablecloths for the holidays or a special occasion. You can also use your steam iron to freshen up linen napkins.

Restore smashed carpeting. Get rid of the lines and indentation left in your carpet when you move furniture with a cordless iron. Use a spoon to stir up the carpet fibers and then press your cordless iron against the floor to fluff up the carpet. Of course, you can also use a professional steam iron to clean deep spots on your carpet by running it over sections of your carpet as you would a vacuum.

Get crafty. Pressing irons don't have to be used solely for fabric and carpet. Preserve flowers from a treasured bouquet by placing them between two sheets of wax paper and using your clothes steam iron to gently press the petals. Autumn leaves, crayon shavings and glitter can also be pressed between wax paper sheets with your clothes iron. Don't forget about iron-on decals and phrases for your T-shirts; a basic clothes iron will provide enough heat to ensure the decals are firmly attached.

Buy Pressing Irons
Back to Guides Directory