Dietary Supplements Buying Guide
by Andrea Sparks
Many people are turning to dietary supplements to support a healthy body and balanced life. Dietary supplements are specially designed for the purpose of supplying the body with specific nutrients that it is not receiving through your everyday diet. Nutrients are the substances the body needs to function -- about 45 different elements and compounds according to some professionals -- including vitamins, minerals, fiber, fatty acids, amino acids and other chemicals. Through research, scientists have learned what these nutrients are, how many of them work and how to synthesize them or extract them from plants, making them more widely available through dietary supplements to support public health.
Buying Dietary Supplements: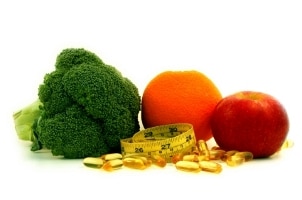 Shop Dietary Supplements ▸
Single supplements

Some supplements are sold with a single vitamin, mineral or other substance as their focus, as opposed to other dietary supplements that offer a combination of ingredients designed for a specific purpose. Popular single supplements include vitamins C and E, the B vitamins, folic acid, fiber and omega-3 fatty acids.

Bodybuilding

These dietary supplements are formulated with high levels of protein to help increase and maintain muscle mass.

Weight management

Weight management and loss formulas can increase metabolism, block fat absorption or suppress the appetite.

Immune system

Formulated with high levels of vitamins C and E, immune system boosters can help keep you healthy during cold and flu season.

Sexual wellness

Designed for both men and women, sexual wellness dietary supplements combine vitamins, herbs and hormones to help promote sexual health.

Beauty

Popular beauty supplements contain vitamins, proteins and mineral complexes to promote healthy skin, nails and hair.

Probiotic

To support a healthy digestive system, probiotic complexes combine live micro-organisms, the good bacteria, to balance the stomach and intestinal tract. Most probiotics contain acidophilus and bifidobacterium, along with other strains of bacteria.

Forms

Vitamins and other supplements are available as pills, gelcaps, softgels, liquids and powders. Some are designed to be taken alone; others are meant to be mixed with food or drink. There is no scientific evidence that any one form is more effective than another, so personal preference is usually the determining factor.
Tips from Overstock™
Thorough research is advisable when considering adding dietary supplements to your diet; the more you know, the better your chances are of getting what you need. Dietary-supplement makers are not required to list their ingredients, so it is important to consult with a physician before beginning a supplement regiment. Even natural substances, when taken incorrectly or in improper quantities, may be harmful and cause illness, injury or death.
The content on this site is not intended to substitute for the advice of a qualified physician, pharmacist, or other licensed health-care professional. The products may have additional information and instructions on or inside the packaging that you should carefully read and follow. Contact your health-care provider immediately if you suspect that you have a medical problem. The use of dietary supplements may not have been evaluated by the Food and Drug Administration and is not intended to diagnose, treat, cure, or prevent any disease or health condition.