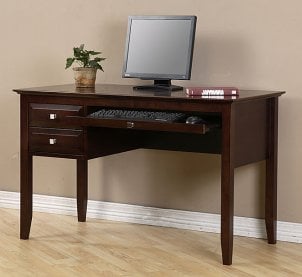 When you want a productive and organized workspace for your home office or business, select desk furniture that suits your style and budget. Desk furniture can serve both a functional and aesthetic purpose. There are many styles and designs of desks to choose from. Whether you're a student or an executive, take time to choose the right type of desk for your needs by looking at the desk furniture fact sheet below.
About Desk Furniture:

Function: Different types of desk furniture pieces are designed to keep papers and office equipment organized. They also provide workers with ample space to complete day-to-day tasks. Desk furniture may be mass-produced or handcrafted and is available in numerous styles and designs.

Types: The most common types of desk furniture suitable for home office or business settings include computer desks, computer carts, armoire desks, credenzas, cubicle desks, lecterns, roll-top desks, writing tables, rolling desks and drawing tables. The type of desk furniture you select will depend on the primary uses of the desk. Some of these desks are designed with built-in drawers and shelving units, pull-out keyboard trays and storage cabinets. Others are designed with a tilted or slanted tabletop.

Styles and designs: Desk furniture is available in a variety of styles to match the theme of your workspace or living space. Common themes and styles of desk furniture include contemporary, traditional, L-shaped, U-shaped, transitional and mission.

Composition: Desk furniture can be made with real wood, metal, steel, laminate, glass, plastic, synthetic wood or a combination of several of these materials. Wood desk furniture may be handmade and is generally more expensive than other materials because of its durability and classically attractive appearance. Types of wood that can be used to build a desk include plywood, jarrah, mahogany and pine. Steel, metal and glass desks may also be very durable and are appropriate for rooms with a modern or contemporary decor theme. Synthetic-wood desk furniture is generally the least expensive investment.

Considerations: If you are looking to create an ergonomically friendly workspace, you may consider investing in an ergonomic desk set. Ergonomic desk furniture is designed to reduce strain and stress while you sit. These pieces may be designed with adjustable height mechanisms or cabinets that can hide office equipment such as peripherals and cables.

Buy Desks
Back to Guides Directory