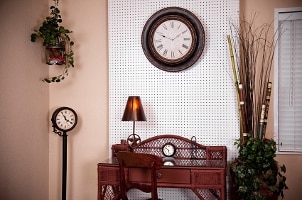 Keeping time can be a difficult task, especially for the busy homemaker or businessperson. Desk clocks or mantel clocks are a stylish, small-scale way to keep track of time in your home or office and add some style to your space at the same time. You can find a huge variety of desk clocks at Overstock.com at great low prices, but don't let the variety stump you. Read on to discover which desktop clocks and mantel clocks fit your decorating style and work great for the mantel or office.
Desk Clock Styles:

Traditional: The timeless style of traditional desk clocks means they look great with nearly any decor. Roman numerals, dark woods, pendulums and chimes are some characteristic markers of traditional desktop clocks and mantel clocks. These clocks are also often shaped in a traditional mantel clock style: a round clock set in an all-wood frame with graceful, convex curves to the base of the frame. Traditional clocks may come in many other shapes, including square mantel clocks, Captain's clocks, folding travel clocks or hanging clocks with their own hook stands. Traditional desk clocks look great in formal offices with lots of hardwood, leather and other rich materials, and they are often a great finishing touch in traditionally decorated living rooms.

Contemporary: Like other contemporary decor pieces, contemporary desk clocks play with form and material for a more modern look. Contemporary desk clocks are often made of glass, metal or other unusual materials. Stretched numbers, odd frame shapes and interesting details in the clock's face are other signs of a contemporary desk clock. Contemporary desk and mantel clocks are fantastic options for the modern office that uses lots of glass or metal in the design or for showcasing your edgier work style or personality. Contemporary mantel clocks update the look of your living room inexpensively and often make great conversation starters.

Country: Dress up your country-style home decor or easy-going office with country desk clocks. Often made of iron scrollwork, country desk and mantel clocks evoke the classic French bistro atmosphere and add texture to your decor. Other country desk clocks come with lids or drawers and do double-duty as keepsake boxes, perfect for hiding the key to your desk drawer or protecting your heirloom jewelry.
Tip from Overstock.com:

Hanging clocks with hook-style stands add style and visual interest to a boring office or living space. Travel clocks work great in small spaces, such as your home office or kitchen desk. Desk clocks with stylish extras, like pen holders, make your office look even more professional, while hinged book-style desk clocks with photo frames help you keep your family close, even at work.

Buy Clocks
Back to Guides Directory