Desk Buying Guide
by Staff Writer
Once thought of as islands in a sea of monotonous work and cranky bosses, office desks have found new life with the rise of the personal computer. Now, computer desks not only exist to lighten your list at work but for a variety of other reasons, too, including entertainment and socializing. That's why it's more important than ever to find the type of computer desk that's as good at multitasking as you are. Choosing an office desk that suits your purposes exactly can be a challenge. Ending up with the wrong desk will haunt you for a long time. Take some time to think about exactly what you're looking for in a desk. It doesn't matter if you're strictly business or hoping to catch up with your favorite TV show online; a great home office desk will make everything you hope to do more enjoyable. This office desk buying guide should help you find just the right home office furniture.
Buying a Desk: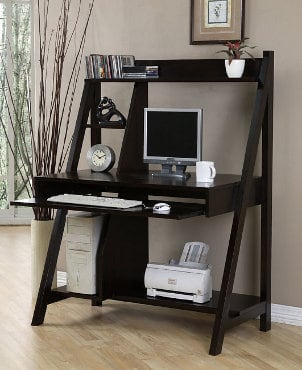 Shop Desks ▸
Getting started:

Every home office is unique. Naturally, your office will call for furniture to suit your personal needs. You'll want to take several things into account when choosing office furniture. Among those are how you'll be utilizing your home desk, your decorating style and your budget. With those in mind, you'll want to think about the core basics of home office desk buying: how much space you have, how you would like to organize your work and what sort of material you would like your furniture to be made of.

Space:

The amount of space your office provides for home office furniture is something you'll definitely have to consider; however, there's no need to panic about finding the right size of home desk for your situation. Whether you're planning to set up your office bedside in a studio apartment or in the sprawl of your remodeled basement, there is capable office furniture in all shapes and sizes.

Large rooms:

Of course, larger rooms allow for a lot of freedom in regards to home office furniture size. If you're interested in a large, flat space on which to keep your work spread out, a flat-front or bow-front executive desk is the way to go. For more computer desk space, U- and L-shaped desks trade the wide top of an executive desk for increased real estate on their extended arms. Plus, they make smart use of wall space.

Small rooms:

If you're battling your office for every square foot, there are plenty of office desks available for smaller rooms. Take a cue from big cities and go vertical. Hutch desks and secretary desks save floor space by offering work space and shelves up and down your wall. If you need something even more compact, keep an eye out for rolling plastic workstations. These handy devices aren't just small; they're also easy to move in case you have company over after work. Another excellent option for a tiny space is the corner desk. A corner computer desk will make good use of unused space and provide you with a decent amount of room on which to work. These options are ideal for dorm rooms, where space is guaranteed to be limited. Consider setting up a room with a loft bed-and-desk combination unit. These pieces offer you more floor space and keep space boundaries clear.

Storage:

Without a proper storage solution, your work space will descend into chaos. Many computer desks come equipped with ample storage. Desks with single pedestals offer two deep drawers, while desks with double pedestals offer four drawers. Armoire, secretary and hutch computer desks all offer a number of storage solutions in the form of shelves and drawers. If space doesn't allow for a larger office desk with drawers, there are other answers. Think about a small file cabinet or pick up some wall shelves.

Material:

Your computer desk will be the anchor of your home office. If possible, choose your desk before thinking about other furniture. Solid wood desks are largely sought after for their sturdy construction and classic looks. A desk built with solid wood, such as oak or mahogany, will match with virtually any decor and last for ages. If you are looking for a more contemporary feeling in your home office, a metal desk will do the trick. Steel desks provide a sharp sense of modernity while remaining just as functional as they are durable. If you are shopping for a dorm room desk, consider choosing something lightweight. Desks made of particle board and plastic will be easy to move down the hall or across campus when living arrangements change next semester. Desks that come apart are also easier to move.

Tip from Overstock.com

A good chair is just as essential to your output as your desk. A quality ergonomic chair can help you avoid backaches and can take the pain out of work. Keep in mind that a chair with wheels can help you move around your space easier, so think about a chair mat.