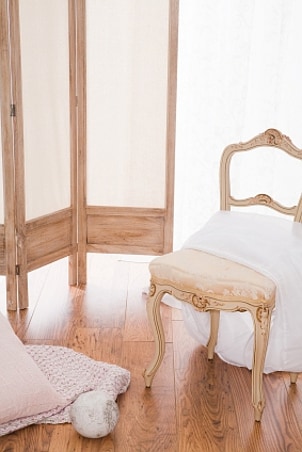 Decorative screens are both ornamental and practical. You can use decorative screens simply as decorative accessories to complement your home decor, or they can be used for many practical purposes as well, such as covering windows or defining spaces in a room. This decorative screen buying guide will give you some beautiful and functional design ideas and help you figure out how to buy the decorative screens that are right for you.
Buying Decorative Screens:

Decorative accessory: Decorative screens with ornamental designs are the perfect decor solution for brightening up a room, screening off dingy corners and disguising cluttered areas. You can use a decorative screen as a backdrop to give an otherwise plain wall some color and personality. You can even use a screen as a headboard or an alternative surface for hanging pictures. Decorative screens are especially nice if you live in an apartment where you're not allowed to paint or hang things on the walls. Decorative screens and shoji screens come in a wide variety of styles and colors, and many even have designs of bamboo, cherry blossoms and many other images on them, so they make great ornamental pieces however you choose to use them.

Window covering: The great thing about decorative screens is that they are so mobile. You can easily move them anywhere you need them. Many folding screens are made from plantation shutters. If you like the option of shutting out a lot of light in your bedroom, a decorative screen made from shutters is a wonderfully versatile option. Place folding screens in front of the bedroom windows when you need to sleep in late and move them out of the way or even fold them up and store them when you don't need them.

Room partition: If you have a loft space, studio or a large open area in your home, room partitions can be extremely helpful for breaking up the space and creating helpful divisions. Make smaller areas out of one large area when you use decorative screens as room dividers; this helps designate living spaces and the flow of the area. This is especially useful when trying to decide where to put furniture and how to arrange it. Room dividers give you more creative freedom when arranging a room because you can essentially create walls wherever you want them. Use a decorative screen room divider in your loft or studio to separate your bedroom and dressing areas from the living and entertaining spaces. Make a space more defined and cozy by designating it with an area rug and a decorative screen.

Privacy screen: If you've ever shared a bedroom or apartment with a sibling or roommate, you've probably had times when you wished for a little more privacy. It's times like those when privacy screens are the perfect candidate for the job. A privacy screen or room divider often functions as a movable wall and is perfect for creating a dressing area or hiding a baby changing station. Shoji screens are great privacy screens and room dividers because they let in lots of light while blocking a view of the space you want to keep private. Decorative screens are also useful in the business world. For small boutiques and shops, privacy screens can be used as decor to highlight special items or to screen off areas that you don't want to be accessible to customers.

Buy Decorative Screens
Back to Guides Directory