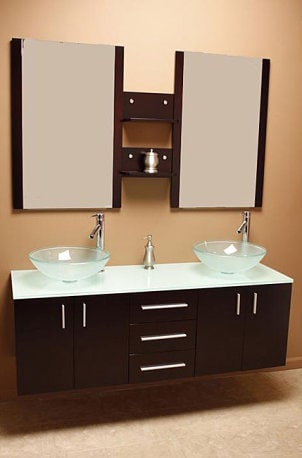 When you crave modern decor, try experimenting with a contemporary Italian bathroom vanity set. Instead of ornate rolling scrolls with fancy carvings, think of simplistic vanities and eclectic accessories. A contemporary Italian bathroom vanity set is all about shiny material and minimalistic straight, flat lines. You can still keep the gorgeous marble tops and wooden cupboards of modern bathroom furniture, but make it fit contemporary rules. Below are some guidelines for decorating with a contemporary Italian bathroom vanity set.
Contemporary Italian Bath Decor:

Wall color. Contemporary Italian bathroom design is known for a classic color scheme. You can't go wrong with white, terra cotta, subtle browns and creamy yellows. Add gold, aqua blue, green or a little red to act as highlights.

Floor. To fully transform your bathroom to look like it's from a contemporary bathroom in Italy, you'll need to address your floor's material. Use wood or ceramic tile on your bathroom's floor and you're guaranteed an authentic contemporary Italian look. In addition to the right kind of flooring, you may want to consider adding a rug or two. Buy an earth-toned rug that features a splash of color in red, aqua blue or green.

Light. Let as much natural light in as possible. If you still need additional light, then install bright spotlights. The bright light will reflect beautifully off the metal and ceramic of your vanity. If those are too bright for you, then you can always install a chandelier. Your chandelier can be ornate, but this is one of the only items that is allowed to be that way.

Cabinets. You can invest in worn and rustic cabinets or new, dark espresso drawers. Paring the wood with marble or ceramic countertops is acceptable styling for your contemporary Italian bathroom. Glass knobs or metal handles will set your cabinets off nicely.

Sink. A contemporary Italian sink can come in shiny white ceramic, marble or glass. Pedestal sinks are quite popular for contemporary bathrooms, but you can also choose from bowl-shaped or square sinks as well.

Accessories. Italy has always been famous for its art, so feel free to add some to your bathroom in the form of murals, ceramics, wrought iron, shiny metal or glass. Your accessories do not have to match each other. The contemporary Italian look is eclectic, as though you filled your home with collectibles. Buy a white ceramic toothbrush holder and pair it with a cut-glass soap dish. A wrought-iron wastebasket will complete your eclectic contemporary Italian bathroom vanity set.
Tip from Overstock.com:

Straight and thin lines are a must for contemporary Italian bathrooms. These lines are created deliberately by the use of sharp corners and flat faces in the cupboards, faucets and even the bathtub. The use of rectangles is also encouraged in contemporary Italian bathroom vanities.

Buy Bathroom Furniture
Back to Guides Directory