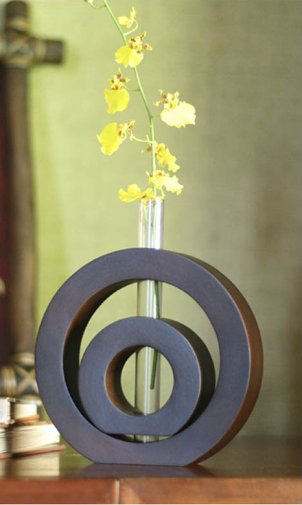 Thanks to their striking and artful variety, vases can help enrich every single room in your home. For thousands of years, vases have been appreciated for their practical use and for their natural beauty as display items. Placing a glass vase in a room can create that finishing touch to make your room a hit. An art glass vase or piece of pottery can make the perfect accent piece to draw the rest of your room together. If you want to take advantage of the classic beauty of vases but don't know where to begin, here are a few ideas to get you started.
Decorating with Vases:

Flowers are optional. Whether or not they are filled with flowers, vases will bring a new aspect to your room. Your best bet is to keep your flower vases flexible. If a favorite flower is in season, get some to put in a crystal vase. If not, fill your vases with crystal beads or leave them empty. Vases are beautiful decorations whether or not they are filled with flowers.

Make it a centerpiece. Vases make perfect centerpieces at a dinner table. If you don't want tall vases that might obscure the view of those seated at the table, try a short glass vase. Placing some flowers in the vase will grant your kitchen or dining room a fresh atmosphere. Minus the flowers, a decorative vase at the center of your table can introduce a classy or fun environment, depending on the style of vases you prefer.

Get creative with contents. Aside from flowers and crystals or gems, there are plenty of other things you can put inside vases that add a different element to a room. Try filling a crystal vase with sea shells or even sand for a beach theme. If you want to introduce an alpine flavor to your room, try filling vases with pinecones. Turn your vases into flexible decorations by being creative with their contents.

Embellish them. If you want to spice up your vases, don't hesitate to make a few additions. Use acrylic paints to add that final touch to an art glass or glue ceramic beads or shells to the outside of floor vases. If you can't find vases that fit your preferences perfectly, make some changes.

Buy Vases
Back to Guides Directory