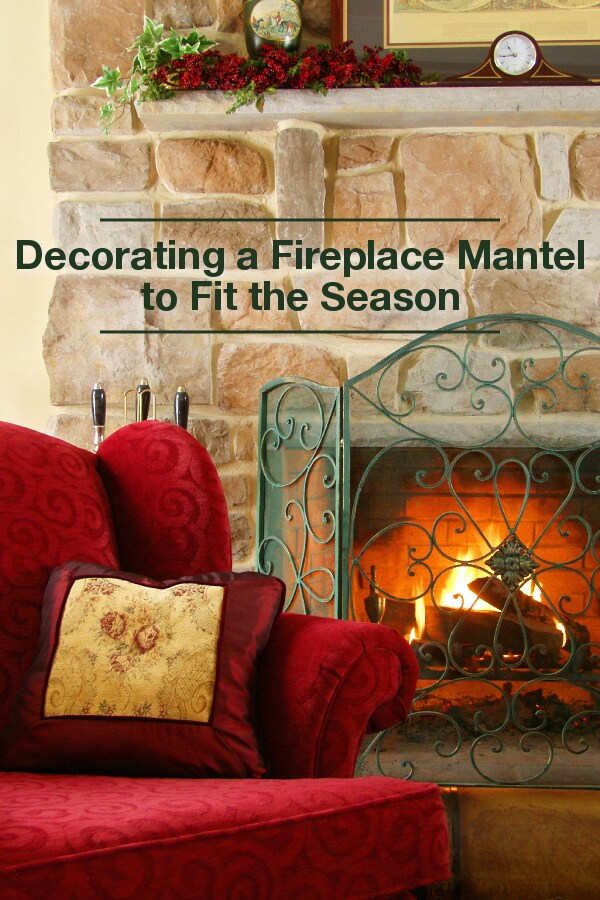 SHOP DECORATIVE ACCESSORIES NOW >>
Decorating your fireplace mantel is a subtle way to change your room with every season. To make your fireplace mantel the focal point of a room, pick decorative accessories that make it stand out. Here are a few ideas to help you decorate your mantel for each season.
Seasonal Decor for Your Mantel:

Spring: Your spring mantel should echo the freshness of budding flowers and spring rain storms. Take a cue from the routine of spring cleaning and create a crisp, clean vignette with just a few of your favorite things. Keep it simple by grouping three white vases or candle holders of varying heights on one end of the mantel and place one flower or interesting leaf in each one; the rule of threes is a commonly used design trick because it is appealing to the eye. On the other side of your mantel, place a large family photo for balance. If you're craving color, add a birdcage or a monogram letter painted in a spring hue.

Summer: Create a mantel display that celebrates your favorite part of the season. Love going to the shore? Evoke the feeling of a beach cottage by using items inspired by the sea to decorate your mantel for summer. Pick up three or four black-and-white beach prints in different sizes and frame them with vintage-inspired frames or weathered frames made of driftwood. Layer these photos along one side of your mantel. On the other side, fill a glass apothecary jar with seashells you've collected or purchased. Finish the look by placing a miniature sailboat replica or decorative lighthouse in the middle.

Fall: Your fall mantel can be a celebration of the changing leaves and fresh school supplies, and using classic colors can help you get the feeling. For a traditional look, try stacking a collection of autumn-hued antique books with a bronze bookend on one end of your fireplace mantel. In the middle, hang a mirror with an ornate gold or bronze frame. To add a soft glow to the room, hang wall sconces with a place for a candle on either side of the mirror. If fall is more about tailgating than leaf peeping for you, replace the mirror with a wreath decorated in the colors of your alma mater; it's a subtle, stylish way to bring school spirit into your living room.

Winter: Winter is probably one of the times when the mantel gets the most attention. Get your home ready for holiday parties by decorating the mantel with an elegant winter theme. Try clipping holiday cards from friends and family onto a piece of string and hanging it in front of your mantel with removable hooks. Reuse the apothecary jars that housed seashells in the summer and place a pillar candle in each one. Place fir tree branches along the top of your mantel along with pinecones for a classic winter look. Finish the mantel with Christmas stockings in a style that coordinates with your other decorative accessories for a cohesive look.

Shop Seasonal Decor
Shop More Decorative Accessories
Shop All Home Decor
See All Guides
Read More Home Guides
Learn More about Home Decor
Published August 22, 2011
Updated December 17, 2014