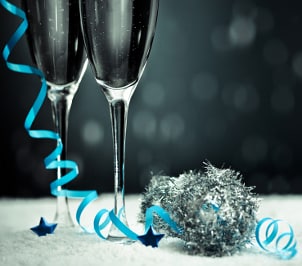 December birthstones reflect the icy blue sparkle of winter. Their bright blue shades are sure to brighten dark nights. Zircon is the traditional birthstone, but gemstone enthusiasts now accept blue topaz, turquoise, and tanzanite as December birthstones, too. Choose a favorite or mix and match. There are plenty of options when you're shopping for December birthstone jewelry.
Blue Topaz:

Topaz lore: Although blue is the most popular topaz color now, the yellow and orange gems were beloved for centuries. They decorated jewelry and ceremonial objects in ancient Rome and the Near East. Topaz is a symbol of beauty, strength, and courage.

Where it comes from: Topaz is found in Brazil, Siberia, Myanmar, Pakistan, the United States, Nigeria, and Sri Lanka.

Color: The blue topaz found most often in jewelry has a clear, medium blue tone, but blue topaz is available in several pretty shades. Sky blue topaz is light, of course, and Swiss blue is a richly saturated medium shade. London blue topaz features a darker shade with a hint of grey.

Jewelry: Blue topaz is abundant, so it is available in both fashion jewelry and fine jewelry. Consider buying a delicate ring, stud earrings, or a heart-shaped pendant for a little girl's first piece of birthstone jewelry. For an adult, a white gold band decorated with blue topazes and diamonds is a lovely birthstone ring. For a bigger splash of blue, choose dangling earrings or a tennis bracelet.
Zircon:

Zircon lore: Like many gemstones, zircon is thought by many to have healing powers. It relieves pain, protects travelers from illness, and promotes restful slumber free of nightmares. People often confuse zircon, which is a natural stone, with cubic zirconia, which is a created stone. Zircon stones really sparkle; they are similar to diamonds in their brilliance.

Where it comes from: Zircon is found in Sri Lanka, Thailand, Vietnam, Cambodia, Australia, and Tanzania.

Color: Zircon can be blue, yellow, orange, red, brown, or colorless. The gems in birthstone jewelry are light to bright medium blue.

Jewelry: Blue zircon doesn't appear in much birthstone jewelry anymore, but some designers still appreciate this gem. Look for it in designer jewelry and fashion jewelry.
Turquoise:

Turquoise lore: Artists have worked with turquoise for centuries. In Egypt and Persia, they decorated furniture and ceremonial items with the gem; they decorated large turquoise stones with inlaid patterns of yellow gold. Many people wore turquoise jewelry as a talisman against bad luck. In the Americas, turquoise adorned ceremonial costumes and instruments.

Where it comes from: The main sources for turquoise are Iran, Afghanistan, Mexico, the United States, Chile, and Turkestan.

Color: Although the greenish-blue shade that most people associate with turquoise is the most common, the stone ranges in color from light aqua green to bright blue. The robin's egg blue turquoise found primarily in Iran has been the most prized among collectors for centuries.

Jewelry: Turquoise's eye-catching yet calming blue tones keep it a perennial fashion favorite as beads, cabochons, carvings, and chips. Look for it in world jewelry and in Native American jewelry of the American Southwest.
Tanzanite:

Tanzanite lore: According to popular myth, Masai herders found these stunning blue gems in the Tanzanian grasslands in the aftermath of a large wildfire. The rest of the world discovered the stones in the 1960s when a gold prospector found one and had it analyzed by a gemologist. Jewelers quickly named the gemstone tanzanite to reflect its unique origins. Then Tiffany & Co. showcased the new gem in its 1967 jewelry collection, and tanzanite became a new favorite.

Where it comes from: The East African nation of Tanzania is still the only source for this gem.

Color: Even among jewels, tanzanite has a distinctive color -- a rich violet blue. The gemstone has a color range of light blue to the darker medium blues, and all have a hint of purple. People have their favorite shades, but the darker stones are favored by jewelers and are the most valuable.

Jewelry: Tanzanite quickly became a favorite gem among jewelry lovers, decorating everything from simple stud earrings to grandiose cocktail rings. Consider tanzanite, accented with diamonds, when you're shopping for a gift of fine jewelry. Like other blue gems, it is usually set in white gold or sterling silver, yet the violet blue color is especially regal when set in yellow gold.

Buy December Birthstone Jewelry
Back to Guides Directory