Cutting Extra Features to Find Cheap TVs
by Paul Sanders
Since HDTVs became cheap and affordable, even those TVs on the less-advanced end of the electronics spectrum offer impressive high-definition picture. Manufacturers are always updating and replacing their cheap TVs with newer, more advanced plasma and LCD TVs. This means there are a lot of good cheap TVs out there. To find great deals, all you need to know is which advanced television features your can do without. Here are some features to sacrifice to find a great cheap television that still gives you great performance.
Shopping for a Cheap TV: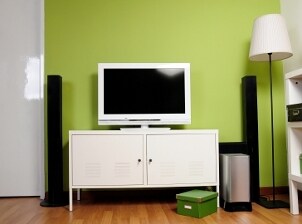 Shop Televisions ▸
1080p resolution:

There's no question that the latest high-end televisions have better image quality than a cheap TV. On the other hand, how much image quality you need is another question. On screens smaller than 32 inches, 720p resolution on a cheap TV is nearly indistinguishable from 1080p. A resolution of 720p is still worlds better than the old standard definition picture from tube TVs, and many video games and HDTV programming are made for 720p. If you're looking for a cheap TV with a screen under 32 inches, you can probably do without 1080p.

Extra ports:

Many higher end LCD and plasma TVs offer multiple ports to connect HDMI, optical, component and other types of cables. With a cheap TV, you won't get as many connection options, but you'll save significantly. Of course, if you have multiple devices that you want to connect to your HDTV, you can always use a video switch or adapter cables to make them compatible.

Higher refresh rates:

Lots of TVs boast refresh rates of 120 or 240 Hz, meaning that they update the image on the screen at a much faster rate than the average 60 Hz HDTV. Usually, boosting the refresh rate is meant to help with motion blur during action scenes or for playing video games. While a cheap TV may not refresh the image as fast, it's far from unwatchable. Save money by choosing a cheap TV with just a 60 Hz refresh rate. You won't be sacrificing much in the way of picture quality.

Advanced video options:

Many HDTVs feature "de-judder" image enhancement and other specialized video processing features that aren't found on cheap TVs. While these can help reduce digital artifacts on the screen and increase the difference between colors on the screen for a clearer picture, you might not notice their overall effect. Even cheap TVs with no special image processing get great high-definition picture.