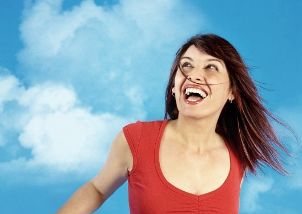 Selecting the hair tools that will give you the hairstyles you desire takes some thoughtful consideration. Both curling irons and flat irons are effective hair tools that offer a diverse set of results. Flat irons, often called hair straighteners, are versatile and can smooth curly hair or add voluminous waves to flat hair. Curling irons bring different styles of curls to hair of any length and shape bangs. Use our tips to compare hair irons of all types.
Curling Irons and Flat Irons:

Design: Hair curling irons are round and come in different sizes for different curl types. A flat iron has two flat plates, which are pressed together over a strand of hair. Hair irons of all varieties, including hair curling irons and hair straighteners, have heat plates. Heat plates are commonly made of metal or ceramic and can also be made of tourmaline or other materials.

Uses: You can use a hair curling iron to curl just the ends of your hair or to create spirals from roots to ends. Curling irons can also be used to shape bangs. Curling irons work well on straight hair and can also add shape and volume to curly hair. A flat iron is great for straightening curly hair and smoothing frizz out of straight hair. Flat irons can also be used to create flips, spikes and waves.

Protecting your hair: Hair irons of all types can cause damage if used improperly. To avoid scorching your hair, dry your tresses completely before using any hair irons. Heat protection products and regular deep moisturizer treatments can help keep your hair healthy.

Results: Flat irons and curling irons offer different results. If you want stick-straight tresses, choose a flat iron rather than a curling iron. If you want to easily create a head full of tight curls, choose a curling iron rather than a flat iron. If you need to smooth frizz and also create uniform curls, invest in both a flat iron and a curling iron.

Additional features: Both curling irons and flat irons offer a range of additional features. Some curling irons come with interchangeable barrels or a tapered barrel for a range of curling options. Some flat irons are available with exchangeable plates so you can straighten your hair and create waves or crimps with just one appliance.

Buy Flat Irons
Buy Curling Irons
Back to Guides Directory