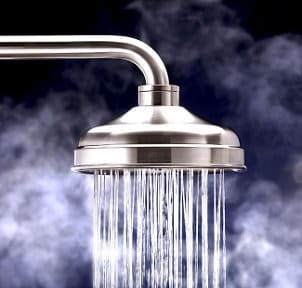 Designing a new shower or remodeling an old one can change your entire bathroom. An updated shower can affect how you feel about the rest of the house, so your choices there have a large impact. Here are some tips for designing the ideal shower for your home.
Create Your Ideal Shower:

Enclosure types: Showers are diverse, ranging from glass shower doors and enclosures to full-surround shower curtains around old-fashioned soaking tubs. Each shower configuration requires a different plumbing setup and enclosure design. These are some common configurations:

Common Shower Configurations

Old-fashioned tubs typically aren't walled in, so you may need a shower curtain rail that runs around the entire tub, usually hung from the ceiling. Hot and cold water pipes, as well as the drain pipe will need to be built into the floor.

Shower-only enclosures are usually walled in, with a glass shower door or simply an open entry. The plumbing is in the walls, which might be tiled or have another water-resistant surface.

Partially-enclosed tub showers have full or partial walls on one or more sides. The plumbing is in the walls for this shower type as well.

Shower fixtures and finishes: The shower fixtures themselves will largely depend on the plumbing setup. Stand-alone claw-foot tubs, for instance, will need long water supply pipes for the shower faucet and stem for the showerhead. The finish on your shower hardware can match or contrast with your existing bath decor. Finish options include chrome, oil-rubbed bronze, brushed nickel and a wide array of other materials.

Wall-mounted vs. hand-held shower heads: Really, this is a matter of choice. While the wall-mounted shower head must remain stationary, the hand-held shower head can hang in its mount or move around, giving you whatever level of control you like.

Choosing a Showerhead

Wall-mounted shower heads have a lot to offer. The raindrop effect of a large rainfall shower head just won't work with a hand-held model. And wall-mounted showerheads don't experience some of the water pressure issues that you may see with hand-held models.

Hand-held shower heads can be a real treat. Being in control of water flow and direction can help ease muscles, especially with the massaging shower-head settings. You can actually massage your lower back or neck with precise control.

Buy Showers
Back to Guides Directory