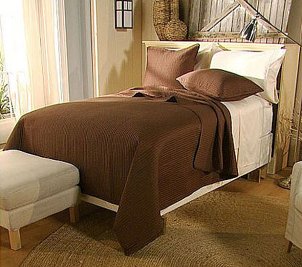 Choosing bedding is a personal decision; when it comes to your comfort while lounging and sleeping, no one knows you better than you. Bedding is available in all sorts of materials, including satin, silk and polyester, but two of the most popular materials for bedding are cotton and wool. Made of all-natural fibers, either cotton or wool bedding will make your bed comfortable, cozy and beautiful as well as suit your individual tastes.
Wool and Cotton Bedding:

Comfort: Cotton and wool each offer their own type of comfort. Wool is one of the warmest materials around, but it can be scratchy against the skin. Cotton typically has less warmth, but it can be woven to a silky smooth finish that babies even the most sensitive skin. In general, it is wise to choose sheets and pillowcases made of cotton and save the wool for blankets, throws and comforters.

Appearance: Textile manufacturers make beautiful fabrics from both wool and cotton, so no matter which material you choose, you are sure to find bedding to fit in with your decor. Wool tends to have a more rustic look, while cotton is a bit more versatile. However, if you don't like the look of wool, a wool blanket or comforter can be covered with a cotton cover, combining the warmth of wool with the look of cotton.

Cost: Wool is generally more expensive than cotton, although the price of bedding usually depends more on the designer than the material. Wool is warmer, though, so you may be able to use just one layer of wool bedding as opposed to several layers of cotton.

Durability: Cotton and wool both have the potential to be extremely durable or extremely flimsy, depending on how well the fabric is made. High-quality wool bedding will last a lifetime if cared for properly. Cotton bedding tends to see a bit more wear and tear, but well-made cotton bedding can also last decades with proper care.

Care: Cotton has a clear edge when it comes to care; almost all cotton bedding is washing machine-friendly and can usually be thrown in the dryer as well. Wool should be dry cleaned or washed in cold water and allowed to hang dry to avoid shrinkage. Wool is also quite susceptible to pilling, which negatively affects its appearance.

Buy Bedding
Back to Guides Directory