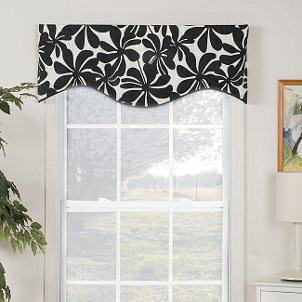 Window cornices are just one of the many window treatments that can make standard curtains a decorative fixture in the room. They are typically rectangular boxes that house a curtain rod or valance, but can also be found in different shapes, styles and materials. Cornices mounted close to the ceiling and covering the gap between the wall and window can make a room appear taller and more dramatic. To learn more about decorating using a window cornice, read on.
Cornices Explained:

Picking a cornice style: To determine which type of cornice would look best in a particular room, you'll want to be familiar with the different options. The most popular cornices are variations on two types: wood cornices and fabric cornices.

Wood:

In its most basic form, a wood cornice is a three-sided box that mounts on the wall over a curtain rod. For a whimsical children's room, try a flat wood-cornice painted with big shapes and bright colors that match your curtain panels. If you want to hang a cornice in a fancy dining room or a sophisticated bedroom, look for tall cornices with decorative molding that matches the rest of the room and makes your cornice look built-in.

Fabric:

Fabric cornices are basically window valances with a more tailored appearance. This type of cornice is recommended if you plan on changing the look of your room often or aren't able to make semi-permanent additions to your home. For this look, hang a curved rod and slide the fabric cornice over it. To get the look of a fabric cornice and the permanence of a wood one, try an upholstered cornice that is covered in a layer of batting and fabric.

Choosing the right curtains for your cornice: Cornices work well with rod-pocket curtains. Since tab-top and ring-top curtains hang lower on the rod, they are not recommended when using a cornice. Hang your curtain panels before installing a cornice to make it easier. If you prefer the look of short, valance-style curtains, hang a cornice by itself and skip this process.

Getting creative with cornices: There are decorative variations that allow you to customize the look to suit your room. If you want canopy-style curtains, try hanging a small cornice above the window. Then place hooks on either side of the window to hold the curtain panels that are hanging under the cornice and drape curtains over them to create a cascading effect.

Buy Window Treatments
Back to Guides Directory