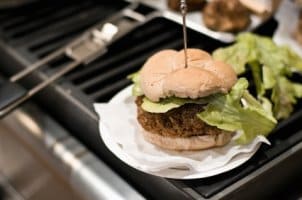 If you want to become a year-round grill master, you need an indoor grill. Sometimes, issues such as space and weather often stand in the way of grilling. With an indoor grill, you can enjoy grilled food whether you are in a snowed-in house in December or a tiny 11th floor apartment in August. These tips will help you get the most out of an indoor grill.
Indoor Grill Cooking Tips:

Find a great recipe: No matter what type of indoor grill you own, it's nothing without the right recipes. Before you start cooking, take the time to search out good recipes. There are all kinds of grilling cookbooks full of recipes for indoor grills, so you shouldn't have any trouble tracking down some that will help you create the perfect meal. Looking for a juicy, flavorful steak? No problem. Interested in a spicy chicken breast? There are recipes for that, too. There are even grill recipes for desserts, pizza, and more. Once you've perfected a few recipes and you're comfortable behind the grill, you can try making up your own.

Use the freshest ingredients: The key to success with any grill is delicious ingredients. When you are planning to create a meal, make up a grocery list. Once you know which ingredients you need, head to the supermarket and find the best ingredients available. Select high-quality meats, vegetables, herbs, and seasonings. When you're ready to cook, get all your ingredients out before you start cooking, so you won't have to stop to chop something while your food is already cooking.

Get the right tools: The most important kitchen tools for grilling -- indoors or out -- are brushes and tongs. You'll use brushes to apply sauces or melted butter to meat and vegetables. You'll use tongs to grab the food off the grill when it's hot.

Heat it up completely: Before you put your food on, make sure your grill is completely heated up. This will help you make sure you cook your food thoroughly, it will help you get a delicious sear, and it will help prevent your food from sticking to the grill.

Keep an eye on it: If you want to make a successful meal with your indoor grill, it's imperative that you continually check your food as it cooks. Have a thermometer handy to check meat temperature and don't overcook anything. Otherwise, you may end up with a tough, dry meal. Remember that meat and poultry needs to rest for a minute after you take it off the grill, and most food will continue to cook after you remove it from the grill.
What Do You Want to Do Next?

Shop for Indoor Grills
Shop for George Foreman Grills
Shop for Grilling Cookbooks
See All Guides
Read More Kitchen and Dining Guides
Get More Cooking Tips