There's something about the salty air and lull of the tide that encompasses the charm of Coastal living. Casual yet crisp, coastal homes are welcoming to anyone and everyone. Coastal design is a decorating theme inspired by weathered furniture and nautical accents found in traditional coastal homes. It incorporates pale finishes, shades of blue, and maritime elements such as compasses, marine life, anchors, and helms. Natural details like stones and driftwood are also popular accents in a coastal home. Whether you long for a home on a golden Malibu beach or prefer the rugged, Atlantic vistas of Cape Cod, Coastal design is all about creating a fresh and light escape. With the perfect coastal color palette and nautical decor, every day in your home will feel like a day at the beach.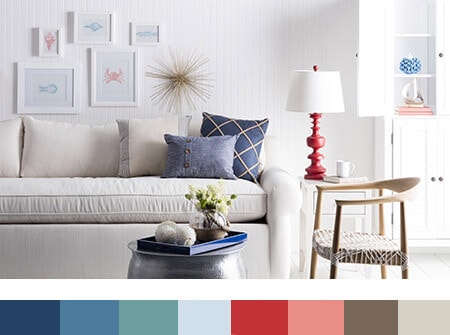 Coastal Colors
A Coastal color palette is inspired by the colors of the beach: seafoam green, ocean blue, driftwood grey, and sandy brown. Decorating with touches of crimson can help create a tailored, preppy look, while incorporating bursts of coral is a great way to add a pop of color to your soft tones. Add a breath of fresh air to punctuate sea hues, like sails on a horizon, with cream curtains and other linens.
Coastal Decorating Ideas in 3 Easy Steps
Wicker
Give your home a weathered look with the texture and comfort of wicker. Durability makes wicker and rattan furniture great for indoor seating and patio furniture, and the perfect accent on your porch or in your sitting room.
Shop Wicker Furniture
Glass
With the right glass accessories, your Coastal home can sparkle like sunlight on water. Glass bottles and decorative sea glass accent a room with subtle shine. Look for muted blue and green glass to capture ocean hues within your home.
Shop Coastal Glass Decor
Driftwood
Scrubbed and shaped by salty seas, driftwood's ghostly silhouette and naturally soft finish gives a wild look to your space. Driftwood decor, like frames and lamps, adds an earthy feel to the natural fluidity of a Coastal space.
Shop Coastal Wood Decor
Rope
Natural fibers and rope accents are right at home in a coastal living space. Rope accessories lend a nautical touch to Coastal decor, setting it apart from other cottage styles. Look for rope baskets, curtain ties, or rope-wrapped lamps to infuse your space with this textured element.
Shop Coastal Decor
Stripes
Stripes are a tried and true way to give structure to your coastal design. Thick stripes and pinstripes lead the eye and create the impression of a larger space. Pull inspiration from vintage beach chairs and classic sailor outfits with wide cabana-style stripes to add balance to your Coastal decor.
Shop Striped Patterns
Coral
Coral decor adds vibrant interest to your Coastal style. Inspired by the brilliant shapes and colors of a coral reef, coral accents give your Coastal decor a bohemian edge with a nod to nature and ocean life. Look for coral print throw pillows and wall art to bring your coastal home to life.
Shop Coral Patterns
Nautical
Core nautical patterns like anchors, helms, sails, and compasses are essentials of Coastal decor. Incorporate these nautical decor classics using decorative accessories, wall art, and fabric prints.
Shop Nautical Patterns
Trellis
Trellis and quatrefoil patterns add complexity in Coastal home decor. With their woven, knotted shapes and Moroccan influences, trellis-print pillows, rugs, or curtains make a beautiful statement and add dimension to the space.
Shop Trellis Patterns
---
---
---
---
---