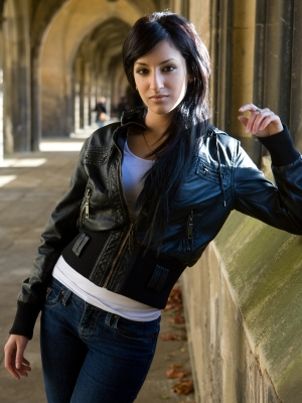 Leather jackets are classic, iconic, and always cool. A simple black leather jacket can really transform an outfit. With many classic and modern designs available in both men's jackets and women's jackets, leather is becoming more and more of a style essential. Leather is, however, one of the hardest materials to take care of. Once you've found your perfect leather jacket, follow these easy tips to clean and care for your leather.
Cleaning Leather Jackets:

Spot-cleaning polished and patent leathers: The smooth surface of polished and patent leathers makes them extremely easy to spot clean. A soft cloth and some warm water should remove most spots and debris from the surface of your jacket. Don't use soaps or detergents of any kind because they can stain the leather or cause it to deteriorate. Use gentle brushing motions to avoid scratches and be careful to clean only the surface and not to saturate the material.

Brushing suede: Suede and brushed leathers need to be treated differently than polished leather because even water can stain the suede and change its texture. Remove small spots, like loose dirt or slight discolorations, by brushing the jacket with a soft brush. This will work the dirt out without changing the texture of the leather. For more serious stains, like liquids and grease, take your jacket to a professional leather cleaner.

Conditioning leather: For polished leather and even some brushed leathers, conditioning will keep it looking its best and will help it last longer. You can find leather conditioners designed specifically for the type of leather you have. Make sure to follow the directions closely to avoid damaging your jacket and make sure to condition the leather frequently, especially after cleaning it.

Cleaning the lining: Like the outside of your jacket, the inside can get dirty and should be cleaned on occasion. For small areas, spot cleaning with water and a gentle soap is best, but make sure the liquid doesn't soak through to the leather. To clean the entire lining or to treat stains that have set, professional leather cleaning is your best option.

Buy Jackets
Back to Guides Directory