Chronograph Watch Buying Guide
by Shawna Edwards
Published April 28, 2010 | Updated December 2, 2014
Modern watches do so much more than tell you the current time: They have stopwatches, calendars, and many other practical features. A chronograph watch offers several methods of measuring time, and most people will want at least one of these watches in their collection. Ladies' chronograph watches and men's chronograph watches are generally considered sport watches, but a chronograph is useful in many different situations. This chronograph watch buying guide defines the many functions available in chronograph watches, so you can make an informed buying decision.
Buying Chronograph Watches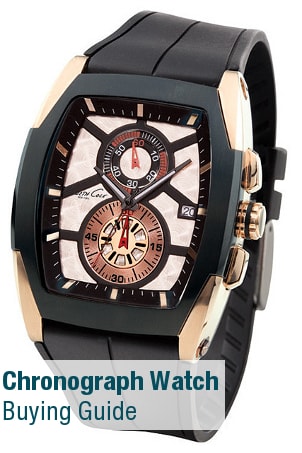 Shop Men's Chronographs ▸
The basics

A chronograph watch is a timepiece that offers more than one way to measure time; however, there are many functions available in chronograph timepieces. Chronograph watches are available in many designs, including luxury, casual, and sport watches. Men's chronograph watches are more common, yet ladies chronograph watches are also widely available. The most easily identifiable chronograph watches have three subdials set into the main dial. The subdials display the stopwatch and other extra functions.

Chronometers and chronographs

These two terms are very similar, and they both apply to watches and time, but they mean very different things. A chronograph watch has multiple functions for measuring time, and a chronometer is a certification of accuracy. A chronometer timepiece has been tested for accuracy by a Swiss laboratory, the Controle Officiel Suisse des Chronometres [COSC]. Timepieces qualifying as chronometers are accurate to 5 seconds per day and include a COSC certification number.

Additional features

The chronograph watch is a timepiece that features more than one method of measuring time and includes a stopwatch function. Many watches feature multiple functions, but may not necessarily be chronograph watches; for example, a watch may have several alarms but no timekeeping function beyond displaying the current time. On the other hand, many multifunction watches do combine chronograph functions with other features. You may choose a chronograph watch with a second time-zone dial and a moon-phase function.

Style

Chronograph watches are considered sport watches, but they are not limited to one style. For office and casual wear, stainless steel and titanium watches are durable and attractive. Watches with fine leather straps are also available with chronograph features; leather watchbands can be dressy or casual. Outdoor enthusiasts may prefer the durability and style of rubber straps. A watch with a colorful dial may add style to your wardrobe while a chronograph watch with a gold case can enhance your luxury watch collection.