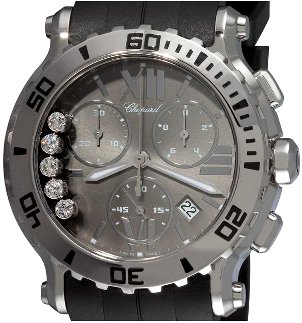 Chopard is a name that you hear whispered at the world's most exclusive parties and events. Chopard watches are luxurious and elegant enough to be worn by elite men and women. Women's Chopard watches and men's Chopard watches will add unprecedented luxury to your wardrobe. When you buy an authentic Chopard watch, you are buying a piece of luxury Swiss watch history. Whether you have a growing collection of Chopard watches, an armoire filled with Chopard jewelry or you are purchasing a genuine Chopard watch for the very first time, knowing a bit about the company can add to the shopping process. This guide will highlight the main points in the history of men's watches and ladies watches by Chopard, as well as feature tips on how to choose a genuine Chopard watch from this famed Swiss watch brand.
All about Chopard Watches:

The beginning: The Chopard legend started in 1860 in Sonviliar, a small town in French-speaking Switzerland. Louis-Ulysse Chopard founded the company with a simple workshop and a wealth of talent. Early Chopard watches were very dependable, and they quickly earned status with watch collectors all over Europe and Russia. Men's watches of the pocket watch variety grew in popularity throughout the 1800s and early 1900s, and Chopard remained a leader in the luxury Swiss watch industry. Authentic Chopard watches from this time period are very valuable collectibles today.

The 21st century: The first Chopard branch opened in 1921 in La Chaux-de-Fonds, Switzerland. The company's headquarters were relocated there briefly and then moved to Geneva in 1935. Geneva has long been considered the watchmaking capitol of the world, and many fine Swiss watch companies are located there. In 1963, the Scheufele family took over the Chopard Company, and innovation became common at Chopard. Many new, technologically advanced watches were introduced, including a variety of stylish ladies watches and accompanying jewelry made of gold, diamonds and gemstones.

Modern Chopard: Today, Chopard watches are as popular as ever. Gorgeous luxury watches from Chopard feature brilliant diamonds, durable stainless steel, shiny platinum and many other high-end materials. The Happy Sport collection from Chopard is one of its most popular. Happy Sport Chopard watches are incredibly elegant, and many feature large, lovely diamonds which float around inside the watch case. Chopard also has a line of watches inspired by the singer Elton John. The Elton John collection from Chopard brings attention to the company's 10-year anniversary of supporting the Elton John AIDS Foundation. Chopard also offers a Classic Racing collection, which personifies the connection between a well-appointed watch and a perfectly engineered automobile. These watches feature leather or rubber watch straps with tire-track designs and dials that mimic dashboard displays.

Buy Women's Chopard Watches
Back to Guides Directory