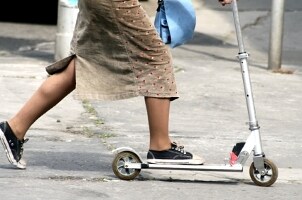 Whether as a toy for your child or an environmentally friendly way to commute to work or school, scooters are a fun mode of transportation. But different types of scooters are better for different uses. So knowing what you want to do with your scooter will help you choose the right scooter for you.
Choosing a Scooter:

Find the right size. To stay lightweight, mini-scooters are sometimes made to only support the weight of a child. Different sized scooters will support different sized people. Finding a scooter that matches the rider will help increase the longevity of the scooter and improve performance. If you are looking at motorized scooters, the same idea applies. You don't want to have a motor that is too big for the child riding the scooter, but you don't want a motor that is too small to get you up a hill.

Consider the different styles. Scooters come in many different styles, and new styles are constantly being developed. Kick scooters are very common, and folding varieties are easy to carry and store. Motorized scooters are great for riding over long distances and on hilly terrain. Scooters with large wheels are good for off-road travel and doing tricks. Other styles of trick scooters include scooters with casters instead of wheels. Three-wheel scooters are becoming popular, too, and these are best for people who don't want to worry about balancing their scooter.

Consider what the scooter will be used for. When trying to find the right scooter, it is important to know how the scooter will be used. If the scooter will stay on roads and sidewalks, small plastic wheels are fine. But if you will be taking your scooter off-road, larger inflatable wheels are needed to get traction and to roll over rocks and debris. If the scooter is going to be used as a commuter to and from school, a folding scooter will be compact and easy to store, while a motorized scooter will make it easier to travel long distances.
Scooter Buying Tip:

Hand brakes are now being offered on many scooters and are helpful for controlling speed when you're going downhill.

Buy Scooters
Back to Guides Directory