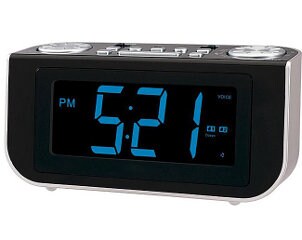 Wake up a little more cheerful in the morning by ditching that old shrieking radio alarm and replacing it with an elegant clock radio. Decent radios and clock radios with the right options can give you good audio quality and bring a different mood to your morning routine. Here are some things to consider in your quest for the ideal clock radio.
Top Clock Radio Features:

Remote control: It's nice to be able to control the clock radio from anywhere in the room, even when it's on the other side of the bed. An RF remote is best, since it doesn't need to be pointed directly at the alarm clock in order to work. And with a MP3 clock radio, you can control music tracks and volume levels using the remote.

Multiple alarms: A dual-alarm clock will let you set two different alarm times, which is great if your partner gets up at a different time. You may even be able to choose the alarm for one setting and music for the other, according to your preference.

Readable display: Clock radio displays with low contrast can be hard to see. The color of the display is really about preference. But if you're sensitive to even the dimmest light while you sleep, consider a red display, which gives off the least illumination and won't reflect off of the ceiling or walls.

Docking station: An MP3 clock radio lets you design a custom wake-up playlist, which is infinitely more pleasant than waking up to shrill radio DJs or a shrieking alarm. Check for compatible MP3 models and whether the unit has a USB input.

Audio quality: If your clock radio docks your MP3 player, it may as well sound nice. Check the frequency response and power of the speakers to see if they produce good audio quality.

Design: Clock radio design varies widely, as do the designs for most electronics. Find a color and form factor that fits your bedroom decor. The display should stand out just enough to be noticeable when you're looking for the time.

Simple controls: Setting the time and alarms on your alarm clock is supposed to be easy. Most important, you may want the snooze button to be prominent and easy to reach, so you can catch a few more minutes of sleep.

Shielded speakers: If you're docking your MP3 player or phone in the clock radio, its wireless signals can interfere with unshielded speakers. Check to be sure that they're shielded and you can avoid the annoying beeping noise when a call or text comes in.

Buy Radios and Clock Radios
Back to Guides Directory