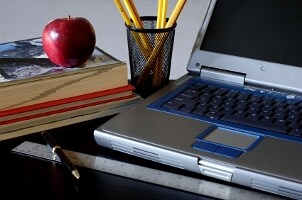 Students need a reliable place where they can study and focus, so a computer desk should be on any back-to-school shopping list. A good desk gives you ample work space and storage for your computer, software and school supplies. Here are some features to focus on when you're looking for a computer workstation for your dorm room.
Choosing a Computer Desk:

Eye-level monitor stands: Those long hours spent sitting in front of your computer screen can put a strain on your neck and shoulders if the monitor is in the wrong position. Look for computer desks with raised monitor platforms or add a monitor stand to lift the screen into an elevated position above the computer desk's surface.

Elevating computer-tower stand: A desktop tower that sits on the floor accumulates a lot of dust in the case, creating component-damaging heat buildup. You can extend the life and performance of your computer by choosing a computer desk with a built-in tower stand that lifts the tower off of the floor. Be sure that the stand provides plenty of ventilation for the fans that cool your computer.

Compact desks: Dorm rooms aren't known for large open spaces. Make the most of the room you have with a compact computer desk. A corner computer desk could be perfect for using your space efficiently. If you need something even smaller, consider a computer table or mobile computer workstation that you can roll out of the way when it's not in use.

Additional storage: A good computer desk can help you organize your school supplies, textbooks and electronics. Look for a computer workstation with multiple shelves and room for media storage.

Keyboard and mouse trays: Your keyboard and mouse often take up limited desk space that could be used for other things, and the desktop may not be the most ergonomic position for typing. An adjustable keyboard tray and mouse platform will free up desk space and let you customize the position of your keyboard and mouse.

Buy Computer Desks
Back to Guides Directory