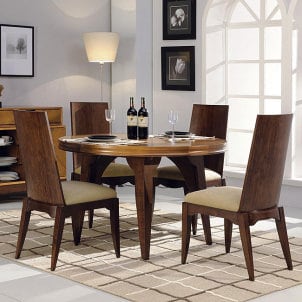 Choosing from among the many different types of dining tables can be a fun and thrilling shopping experience. There's a perfect dining table for your room whether you're redecorating your dining room or furnishing your new home. Just like any other piece of furniture, there are certain characteristics you'll need to be aware of when purchasing a dining table. If you're well informed, you'll pick the perfect table the first time around. Here is a list of tips to remember when choosing dining tables.
Tips on Choosing Dining Tables:

Use. First, determine what your dining table needs are. In order to reduce the number of dining tables you'll look at, you need to decide how you'll use your dining room table. Are you planning on serving large dinner parties at your dining table or will you only need it for small, intimate parties? Do you want a formal dining table for your dining room or are you looking for a sturdy and informal dining room table for your kitchen?

Size. There are a couple size factors to be aware of when looking at dining tables: the number of people you plan to entertain at your table and the size of your dining room. Measure your dining room and find its limits. A dining table that is too big for the dining room will make for an uncomfortable dinner experience for your guests. On the other hand, if you purchase a dining room table that is too small for your dining room, your table will be dwarfed by the size of the room and look completely out of place. Be sure the dining room furniture will fit all of your guests.

Style. What style is your home? It's important that your table matches the rest of your home for aesthetic purposes. A country table will look sadly out of place in a modern home as will a contemporary table in a vintage-styled home. Take your time and do your furniture research.

Budget. Once you've determined all of these things, you'll need to decide on your budget. You'll want to invest money in a nice dining table if you plan on using it for fancy dinners. You won't spend as much on a nice kitchen table. These two tables fulfill two very different roles and are in two different categories. Determining a budget will also help to eliminate redundant choices and help you purchase a table much faster.

Buy Dining Tables
Back to Guides Directory