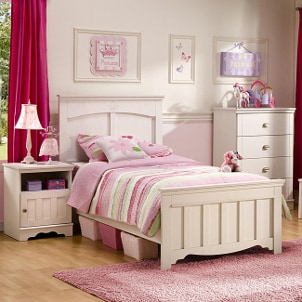 A big kid bed, nightlight and nightstand -- moving into a new room is exciting for kids, and having all the right bedroom furniture makes it even more fun. Choosing the perfect nightstand for your tyke is very different than choosing a nightstand for yourself, however. There are many things to take into consideration, such as size, safety and style. The following tips can help you find the right nightstand for your child's room.
Choosing a Nightstand:

Durability: First and foremost, kids' furniture needs to last. The wear and tear on a nightstand in your kid's bedroom is typically much greater than the furniture in the rest of your home, making it important that you find a children's nightstand that is durable. In general, a solid wood nightstand will be the most durable, but there are plenty of other materials that will make quality additions to your child's room. Look for nightstands with sturdy hardware that won't break or wear out.

Size: When you're looking for a kid's nightstand, you want to look for a kid-size nightstand. The nightstand needs to be short enough that your child can reach what's on top, and it needs to blend in with the rest of the furniture in the room. Toddler beds are typically several inches shorter than other size beds, making it essential to purchase a low nightstand if you choose to have your kid sleep in a toddler bed for a while.

Fun and bright: You want your children to love their bedrooms, so give them kid's furniture geared to them. Bright colors and cute designs are sure to make them happy. Spruce up a girl's room with pink, purple or lime green furniture, and give a little boy blue, red or dark green items. Pictures of flowers, trucks, animals or their favorite cartoon character will make them love it even more.

Drawers, cabinets and corners: When you buy a nightstand for a kid's room, you don't want to overlook safety. One of the easiest things to do is look for nightstands with rounded corners. This will lessen the danger of serious injury from falling and bumping a head against a corner. You'll want to make sure there aren't any exposed hinges or hardware for little fingers to get caught in and that all cabinets and drawers sit flush against the nightstand as well to avoid pinched fingers.

Unique shapes: Depending on how old your child is, you might want to choose a unique piece of furniture for your kid's nightstand. Consider a plastic chair or kids' table instead of a traditional nightstand. A lightweight, colored chair can be a great place to stack picture books, adding a fun accent to a bright kid's room. If your kids share a room, consider bridging the space between two twin beds with a long nightstand that has dresser drawer space and table space for both of them.

Buy Nightstands
Back to Guides Directory