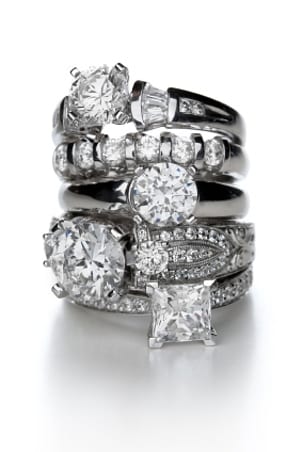 When shopping for engagement rings, you will find many variations of the same classic solitaire ring. In today's modern world, unique and artistic engagement rings are widely available. Avoid the carbon-copy rings and select a unique engagement ring that fits your style. Many modern brides choose colored diamond engagement jewelry or unique engagement rings made of industrial metals. Shopping by ring setting is also a great way to find an unconventional engagement ring. These unique engagement ring settings will inspire you to select funky and fashionable wedding jewelry.
Which Ring Setting Do You Love?

Cluster: Cluster ring settings feature diamonds or gemstones in fascinating and artistic patterns. Unique rings with cluster settings are good options for engagement rings because they allow you to have a variety of diamond shapes and gemstone colors in one piece. Cluster engagement ring settings are bold and fabulous in every style. Choose the cluster engagement ring that perfectly projects your personality.

Tension: Tension engagement rings are sleek and contemporary with a minimalistic edge. These unique rings feature a simple diamond held in a cut in a band. The sides of the band press against the stone on both sides, holding it in place. Tension engagement rings have a futuristic edge and will easily go with your casual, fashion-forward wardrobe.

Pave: Pave ring settings are similar to cluster settings, but the stones are set into the band so that the top of the ring is smooth. Pave engagement rings give you a flashy look in an unconventional style. With pave settings, you get a luxurious ring for less because the stones are smaller, but the end result can be spectacular.

Tiara: Tiara settings mimic the famous headpiece with one large stone in the center and diamonds on either side that get smaller as they get closer to your fingers. Tiara engagement ring settings are romantic but never boring. Unique tiara engagement rings go well with a variety of wedding band styles.

Combination: Some unique engagement rings feature several ring setting styles in one elaborate pattern. Combination ring settings give you the chance to have a variety of different styles in one unique ring. A stunning engagement ring with an elaborate center pave design surrounded by prong-set gems is both opulent and unconventional. Engagement rings featuring cluster and pave-set diamonds in a unique design are perfect for the modern bride.

Buy Engagement Rings
Back to Guides Directory