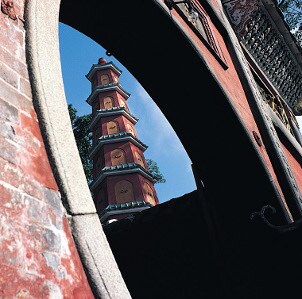 Chinese New Year is one of the most widely observed holidays, celebrated in Chinese communities across the world. It begins on the first day of the first month of the lunar calendar, when the new moon appears (this is late winter -- January or February -- in the Gregorian calendar). The well-known lion dances and bright red New Year's envelopes are part of a much bigger celebration. Here are a few more customs to observe for this joyous holiday.
Get Ready for Chinese New Year:

Sweep away last year's bad luck. Scrubbing the entire house from top to bottom before the first day of the festival cleans out any bad luck from the last year and makes way for good luck. Family members also clean and redecorate household altars dedicated to deities and ancestors.

Welcome the New Year into your home. After cleaning house, people often fill their homes with flowers because they symbolize a new beginning. Red is the color of joy and truth in Chinese tradition, and red garlands and posters brighten the walls of many homes. People also hang posters on windows and doors with the word "fu," which means luck, written upside down. The "fu" posters symbolize that luck is on its way to this house. It's the only time of the year when any Chinese word is written upside down on purpose.

Let art give you a new perspective on life. Placing beautiful new paintings in a dwelling at the beginning of the new year is also a tradition. Usually, the paintings will depict spring rituals and legends, but they can be any art depicting renewal and new beginnings. Refresh your home decor with traditional Chinese wall decor.

Wear new clothes to symbolize a fresh start. The new year is a good time to refresh your appearance, and many people buy new clothes and shoes and get a haircut. Wearing red during the celebrations brings good luck, but wearing black brings bad luck. The celebration is 15 days long, so have lots of red clothing available.

Eat with family and friends. On the eve of the Chinese New Year, as it is with many holidays, it's customary to eat a festive meal, called the reunion dinner, with loved ones. The spirits of honored ancestors are also welcome. You may enjoy eight or nine different dishes because both 8 and 9 are lucky numbers, meaning long-lasting and prosperity respectively. Those dishes may include dumplings because they look like gold nuggets, long noodles because they symbolize long life, and "eight treasures rice," which is made of rice, various dried fruits and nuts, and sweet red bean paste.
What Do You Want to Do Next?

Shop Chinese Wall Decor
Shop Chinese Decorative Accessories
Shop All Chinese Home Decor
See All Guides
Read More Holiday Guides
Learn More about Parties & Decorating