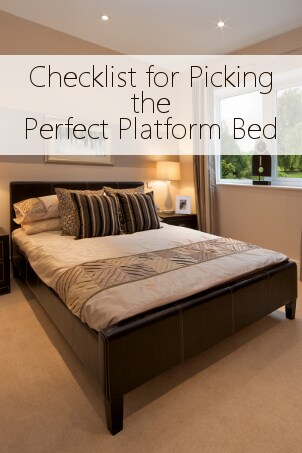 If you're shopping online for a platform bed, you'll find that you have a wide variety to choose from. Whether you have a specific style in mind already or you know you just need something with extra storage, you can narrow down your search and find the bed you want if you consider this checklist while you shop for the perfect platform bed.
Choosing a Platform Bed:

Choose your style. Some platform beds are streamlined and minimal. Others have tall, tufted headboards. Some are made of wood while others are upholstered. Before you choose a bed, think about the style you like. Beds with more details tend to feel more romantic and feminine. Frames that are more substantial but that have fewer details feel more masculine.

Think about color. Whether you want to match the wood tones to your existing furniture or you want to coordinate the upholstery to your paint color, color will be an important consideration.

Consider the size. Measure your room before you commit to a specific size. Even if your bedroom has enough room to fit a king-size bed, will that leave enough room for a dresser and a few nightstands? Make sure you have room to walk around the bed when it's in place, too. A queen-size bed is often large enough for two people, but if you are taller than average, you may want to see if a California king will fit.

Think about portability. If you move often, check for ease of assembly and disassembly. If you do need to move, you'll want to be able to take your platform bed apart without too much trouble. Make sure you won't be struggling to get the frame in and out of your home; consider the size and shape of your hallways and doorways. Be sure to look through the bed's product description for measurements.

Look for a mattress. Bed frames aren't usually sold with a mattress, so you'll need to purchase this separately. Platform beds don't need a box spring, so don't buy a mattress that comes with a box spring as a set. Memory foam mattresses are particularly good for platform beds, so you may want to learn more about those.

Don't forget the bedding. Every new bed will need bedding. Match your bedding with your new platform bed frame and your bedroom as a whole. After picking out the basics, such as sheets and a comforter, accentuate your bed with a throw blanket and a few throw pillows.
What Do You Want to Do Next?

Shop Platform Beds
Shop Storage Beds
Shop All Beds
See All Guides
Read More Furniture Guides
Learn More about Bedroom Furniture