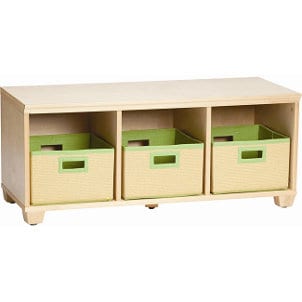 Shopping for kids' storage can be rough. You need something that will hold everything you want to store, look great and survive your kids. Let's face it; kids can be tough on furniture, but with this checklist, you'll be sure to find the perfect kids' furniture pieces to last and fit all your storage needs. Storage for children's toys and books is important because injuries can occur when kids or adults trip over items left on the floor. One way to avoid that is to invest in quality kids' storage that will last.
Buying Kids' Storage:

Height: Make sure your kids can reach the shelves, bins or work the bench lid of their new storage piece. It's important that kids' storage bins are short enough for younger kids to reach. If they can't access it, then chances are they won't use it. (On the other hand, if there are things you don't want them getting into, then make sure it's tall enough that they can't reach.)

Storage space: Whether you plan to store several large toys or many small ones, you'll need to make sure your storage benches and bins are wide or deep enough. Also, make sure you purchase enough bins to fit your stuff.

Bins vs. shelves: Are you planning to store kids' toys or maybe some sweaters or blankets? You'll want to invest in a storage bench. If you want a place to keep books for easy access, then a nice open shelf is your most logical choice in kids' furniture.

Adjustability: Find out if the shelves are adjustable if you decide to purchase a bookshelf. Even a small change can be fun, so when you want to redecorate without a major overhaul, this is an easy option. All you have to do is adjust the shelves and change what you put back on them. This will change the look and feel of the room without a major renovation.

Appearance: If you're not sure how you're going to decorate a room yet but need storage fast, don't worry; there are plenty of options. Start with a plain wooden dresser or storage bench. Plain wood means you can leave it as is or paint it when the time comes for redecoration. Another option is to buy a fun piece that's already painted and decorate the room with the princess or Wild West theme in mind. Your kids may outgrow it one day, but their memories will last much longer. It can also be a fun piece to hand down to other siblings or grandchildren.

Buy Kids' Storage
Back to Guides Directory