Cheap Bunk Beds vs. Discount Bunk Beds
by Jessica Gezon
Bunk beds are a classic piece of kids' furniture. They make the most of a small bedroom, provide privacy for two kids sharing a room, act as an incentive for hosting slumber parties, and can serve as a fixture of childhood memories. Buying kids' beds can be expensive, especially when furnishing the rest of a room, too, but don't be overwhelmed. Give some thought to the pros and cons of cheap bunk beds and discount bunk beds before you make your purchase and you're sure to be satisfied.
Comparing Bunk Beds: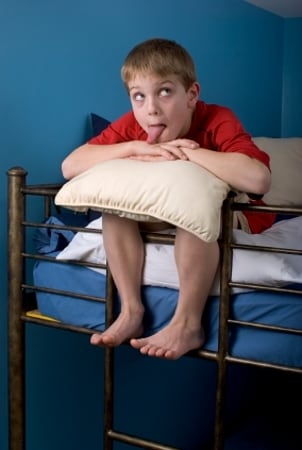 Buy Kids' Beds ▸
The difference:

There is a difference between cheap furniture and discount furniture. Cheap furniture is what sounds like: budget-friendly. Cheap bunk beds might be made from less sturdy materials than more expensive bunk beds and shouldn't be expected to hold up as well under heavy use.

Price:

Discount beds aren't necessarily low-cost. Discount furniture is simply less expensive than comparable pieces would normally be. A high-end bed with rock-solid construction might be available at a fraction of its normal cost but still count as an expensive piece of furniture.

Cheap bunk beds:

A Cheap bunk bed is the perfect choice if you plan to use it for only a couple of years or don't expect it to get a lot of use. If, for example, you're putting in bunks to accommodate cousins who only visit once a year, then cheap beds are an excellent option.

Discount bunk beds:

Discount bunk beds might be for you if your kids play like monkeys who treat furniture as a jungle gym. If you plan to use the furniture for a few years and anticipate heavy use, consider investing in sturdier, more expensive bunk beds.

Extra features:

Cheap bunk beds are less likely to include features. Things like a built-in bookcase or carved accents are more likely found on discount furniture. If extra storage space is important to you, then do some research and find a discount bed that features drawers or cubbies to store your little ones' stuff. If you prefer clean, simple lines without ornamentation, then a cheap set of bunks might suit you.

Minor scratches and dents:

One reason furniture ends up discounted is a cosmetic flaw. If an imperfect headboard or scratched ladder will cause you consternation every time you see it, then you might be better off finding a cheap but pristine set of bunk beds; if a few scuffs and scrapes don't bother you, then you can search for a great deal on discounted furniture for your child's room.
Discount Bunk Bed Tip
Remember that discounted doesn't necessarily mean damaged; discount furniture can be an attractive addition to your home.