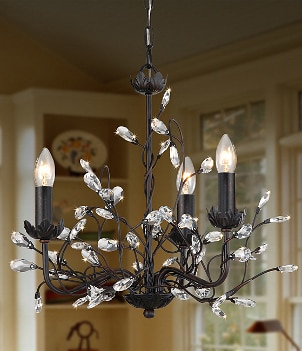 Looking for a way to simultaneously brighten and dress up your home? Chandeliers are the perfect solution. Chandeliers are available with many arms, multiple tiers, and shades as well as with more simple designs and streamlined structures. Look for a chandelier light with a large presence for a big room and one with a smaller profile to use in a diminutive room; the size of your chandelier doesn't matter, only its size in comparison to the rest of your home decor.
Trends in Chandeliers:

Holiday chandeliers: Chandeliers are a staple in many homes, and while they're beautiful and functional, they're not very mobile; once you've installed a chandelier light, it's not easy to trade it out without serious work. Instead of lamenting the light, incorporate it into your decorating scheme. If you have a chandelier with multiple arms, consider decorating for the winter holidays by draping a garland from one arm to the next. For variety you can hang an ornament from the base of each light or tie a bow around the center of your chandelier. Slight variations on this theme will work for nearly any holiday you choose to celebrate.

Rustic chandeliers: Rustic chandeliers can add an old-fashioned feel to any room. Rustic designs typically incorporate wood and other natural materials paired with less than pristine metals for a weathered look. If you're interested in creating a cabin or lodge feel, then a rustic chandelier might be just the ticket.

Shabby chic chandeliers: Shabby chic chandeliers have gained popularity. Similar to rustic-style in some people's minds, shabby chic and rustic are actually entirely different styles of home decor. Shabby chic is more comparable to vintage style than to rustic. If shabby chic is your style, choose a chandelier with fabric light shades crafted of gingham, lace or chintz or featuring faded floral patterns. Shabby chic chandeliers will look great with iron and other metal furniture.

Candle chandeliers: Chandeliers relying on candles instead of electricity for light are beautiful, but they are also higher maintenance than mainstream lighting. Candlelight adds a mysterious, romantic air to any room or occasion and, if specialty candles are used, can even infuse a room with your signature scent. The downside to candle-powered chandeliers is twofold: the risk of fire is higher and the candles must be changed periodically. If your chandelier is high and out of reach, candles may prove impractical; if setting the mood is your top priority, a candle chandelier will serve you well.
What Do You Want to Do Next?

Start Shopping for Chandeliers
See All Lighting & Ceiling Fans
See All Guides
Read More Home Guides
Learn More about Lighting