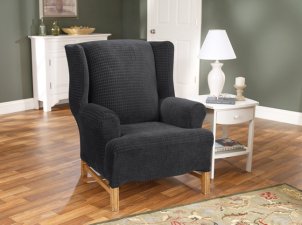 Are your chairs looking dingy or worn? Wear and tear from years of use or from pets can make the fabric on the outside look old before the inside is worn out. If your chairs are still sturdy, don't replace them yet. Instead, use chair slipcovers to give them a fresh, new look. It's an easy, affordable way to update living room chairs and dining room chairs alike.
Slip Covering Chairs:

Determine exactly what you'll need: Before you select a chair cover, you'll need to measure the seat depth and width as well as the height and width of the chair back. There are all kinds of chair covers available, so you shouldn't have any trouble tracking down the right types for your furniture. If you're recovering dining room chairs, make sure to buy enough for the whole set, even if you don't use them all for every meal. You'll want to be prepared for holiday meals and special events.

Pick a fabric: The type of fabric you pick for your chair cover will come down to personal preference and needs. People looking for chair slipcovers for their living rooms will want to consider fabrics that are soft and comfortable yet durable. If you need chair covers for dining chairs, think about fabrics that appear elegant yet defend against spills and stains.

Choose a style: Once you know what type of chair you own and what kind of fabric you want to cover it in, it's time to pick a style. Chair covers are produced in a huge range of styles, meaning they have something to offer everyone. If you have a modern design scheme in your home, look for slipcovers with contemporary styling. Generally, contemporary covers feature minimalist designs or the latest pattern trends. People looking for a more traditional look in their home have plenty of choices, as well. Classic chair covers often include elegant fabric patterns with floral prints.

Apply it: After you have chosen your chair slipcover, it's time to put it to work. Stretch it over the chair of your choice and use the closures provided to make the cover fit snugly; some slipcovers zip closed, while others tie.

Accessorize it: Dining room chairs don't need much accessorizing, but once you have a fresh new cover on a living room chair, it's time to add a few things to make it look great. A new throw pillow will add a pop of color to the room. Add an end table with a lamp next to it, and you have a place to read, rest, and enjoy your refreshed room.
What Do You Want to Do Next?

Shop For Chair Slipcovers
Shop for Recliner & Wing Chair Slipcovers
See All Slipcovers
See All Guides
Read More Home Guides
Learn More about Home Decor