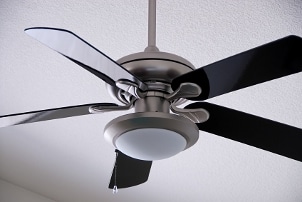 When it's hot outside, it can get downright uncomfortable inside your home. A simple breeze created by a ceiling fan is the solution for cool, natural comfort. They can be energy-efficient alternatives to the high costs involved in operating your other cooling systems for hours on end, and they provide instant relief because you can feel the breeze they create. This ceiling fan buying guide explains your options, so you can find the right one for your home.
Buying Ceiling Fans:

Ceiling fan design: The style of a ceiling fan is one of the most important factors to consider when choosing one. If you don't get the right "look," you won't be happy with your fan, no matter how well the other factors meet your needs. They come in much the same styles as other furniture in your home. Choosing the right style is a matter of personal taste, so make sure you know what your options are, how the fan will fit into the room, and the decorating style of the room where you plan to install it. Some of the more popular styles include traditional, contemporary, and Victorian. There are also fans designed for children's rooms.

Indoor ceiling fans: Most fans are indoor ceiling fans. Things to consider when selecting one for an indoor location include the size of the room and the height of the ceiling. If the fan is to go into a tight space, such as a bath or kitchen, you'll want to make sure the blade span isn't too large. Normal ceiling fan size can range from 18 inches in circumference to a 52-inch circumference, and custom fans in larger and smaller sizes are also available. If you have a low ceiling, you might want to consider a ceiling-hugger fan. As the name implies, these don't hang down as far as others, making them ideal for lower ceilings.

Outdoor ceiling fans: If you plan on putting a fan outdoors, such as in the ceiling of a covered patio or deck, you'll need a special outdoor ceiling fan. These may look no different from indoor fans, but they are much different internally. Fans designed for outdoor use have parts that are sealed to prevent moisture from getting in. In addition, many of these fans are treated on the outside with water-resistant or waterproof solutions. Because of this, they are often more expensive than indoor fans.

Ceiling fan efficiency: Energy-efficient ceiling fans continue to increase in popularity as energy costs continue to rise. In hot climates, the efficiency of a ceiling fan can have a large impact on how much your monthly electric bill is. A ceiling fan that is more efficient can save a lot of money and even pay for itself over time, even though its purchase price may be higher than the price for a regular fan. Ceiling fans are considered energy efficient if they are able to earn the coveted "Energy Star" sticker. This sticker is given by the U.S. government to electronics that meet certain energy-efficiency criteria. If you plan on using your fan a lot as energy-saving tools, purchasing an energy-efficient model is a smart choice.

Ceiling fan lights: Ceiling fans may or may not come with a light kit. If the ceiling fan you purchase doesn't have one, you may be able to buy one separately and attach it to the base of your fan. In most cases, it makes sense to have lighting with your fan, since the wiring is already there, and the ceiling fan can add ambient lighting. There are many different kinds of ceiling fan light kits available with lamps that match almost any decor. When selecting a light kit, keep the height of your ceiling in mind; if you have a low ceiling, avoid installing a light that will hang down very far.

Buy Ceiling Fans
Back to Guides Directory