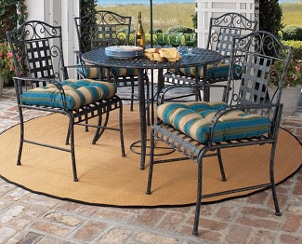 With stylish, comfortable patio dining sets in your backyard, your barbecues and even casual evenings with your family become much more relaxing and enjoyable. You may have a few questions about caring for your patio furniture, however, and keeping it looking like new. Whether you need guidelines for cleaning your wooden patio dining tables or would like information about caring for wrought-iron patio sets, the following suggestions will help you preserve your outdoor dining furniture for future events. Read on for tips on caring for patio dining sets.
Patio Dining Set Care:

Keep your patio dining sets covered when they're not in use. One of the easiest ways to care for your patio furniture sets is to protect them from rain, snow and even sunlight. You can purchase large furniture covers to keep patio dining tables dry and safe from damage and find individual seat covers made of vinyl or waterproof polyester to shield patio chairs. For further protection, store your patio dining furniture in a shed or in your garage during the winter months.

Clean your patio furniture at least monthly during the summer. If you frequently host barbecues or backyard parties at your home, you'll want to wipe down your outdoor dining furniture often to be sure it isn't collecting dust and that stains haven't set in. Clean both wooden and wrought-iron patio sets with water and gentle dish soap when they get particularly dirty and rinse well; use a clean cloth to dry all the excess water and let each piece dry thoroughly for a few days. Wicker patio furniture sets can be vacuumed to remove dust and cleaned with an ammonia-water solution and a soft rag.

Maintain your patio dining sets with fresh finishes or paint. After a few years, your patio furniture will probably begin to fade or show signs of wear. Make it look new again with a coat of sealant or a new layer of paint. Choose between a waterproofing sealant and an oil-based stain for refinishing wooden outdoor dining sets. To freshen up wrought-iron outdoor dining sets, first buff off any rough patches with sandpaper. Then use a small paintbrush and an automotive paint touch-up kit to refinish all of the chipped spots. When you need to update wicker outdoor furniture, including patio sets, clean all chairs and tables of dust and apply one or two coats of spray paint.

Buy Patio Dining Sets
Back to Guides Directory