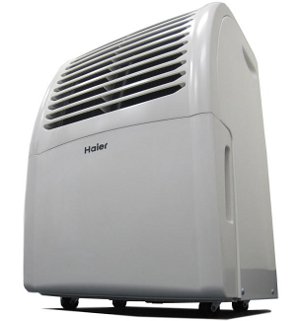 It's easy to eliminate musty odors, mold and mildew with a dehumidifier in your home. However, you may have a few questions about caring for your home dehumidifiers and making them last. Whether you use a simple mini dehumidifier in your bedroom or have placed a basement dehumidifier downstairs to get rid of excess moisture, the following suggestions will help you clean your unit and keep it working well. Read on for tips on caring for a dehumidifier.
Dehumidifier Care:

Turn off and unplug your unit when it is not in use. If you don't plan to use your dehumidifier for several days, make sure to turn it off and unplug it. This will not only save you energy but will also save the motor from working overtime when it isn't necessary. Even the best dehumidifier can wear down with continual use.

Empty the collection bucket whenever necessary and before storing. Most dehumidifiers feature a removable bucket and an indicator that lights up when it is full. When you plan to store your unit or won't be using it for a while, you'll want to empty the water so that it doesn't breed bacteria. Before replacing the bucket in your dehumidifier, wash it with soapy water and rinse it well. If you need to get rid of mold and bacteria, add a bit of white distilled vinegar and let it sit for a few minutes before rinsing and drying the bucket thoroughly. White vinegar can also get rid of any odors in your air dehumidifier.

Clean the exterior of your dehumidifier. Even the best dehumidifier will get dusty over time, so you'll want to vacuum the unit's grills to remove all dust clumps and lint periodically. Dip a cloth in soapy water and wash the exterior of your dehumidifier; then rinse it and dry it with a clean cloth. If you use a portable dehumidifier, you'll also want to check the casters to be sure they are free of dust. Check the handle of your portable dehumidifier, especially if it hasn't been moved in a while.

Check your dehumidifier's filter once a month. While you may not need to replace the filter monthly in a mini dehumidifier, you may have to replace it more frequently in a basement dehumidifier, especially if you live in a particularly muggy area. It's a good idea to check the filter at least monthly to be sure, no matter what your environment is like.

Buy Dehumidifiers
Back to Guides Directory