Car Stereo Buying Guide
by Staff Writer
Published April 28, 2010 | Updated June 25, 2015
Today's electronics provide audio and video options to suit every desire and every budget. This car stereo buying guide will help you put together a car audio and video system that will bring the best out of your music collection when you're out on the road.
Buying a Car Stereo: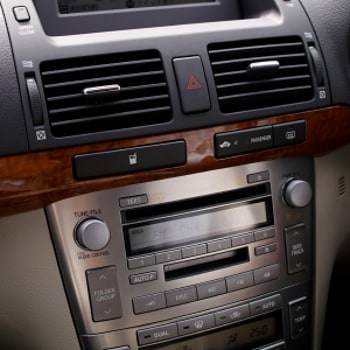 Shop Car Audio & Video ▸
Car Stereo Sizes

Car stereos are labeled as single DIN and double DIN. The "DIN" label refers to the size of the in-dash stereo unit, or "head" unit. Single-DIN and double-DIN stereos are about 7 inches wide, with 2 and 4 inches of height, respectively. Stereo depth will vary, so you may need to measure the car-stereo cavity in your dash.

Car Stereo Components

The performance and quality of car stereo components keep improving, and prices continue to decrease, giving you affordable options for superior car audio. You can customize your system to include whatever you like -- even mobile video. Start with a good car stereo, amplifier, and basic car speakers, and then build from there.

Car Radio

AM/FM car stereos are car audio basics. The newest car radio option is satellite radio. You'll need a satellite radio receiver and subscription to a satellite radio service, but you'll get access to commercial-free radio stations from across the globe in crystal clear digital-audio.

CD Player

Car CD players are standard equipment in many car stereo systems. CDs provide superior audio quality, and car CD changers give you access to a wider music library without needing to swap discs. An added bonus would be a MP3 CD player that will play custom CDs you create from your computer's MP3 collection.

Car Amplifier

The electronics in your custom car stereo system will need more than the average amount of power. Car amplifiers (or amps) will boost power to your speakers. If your amp is large, you may need to mount it in the trunk of your vehicle. Car amplifiers can power one, two, or four audio channels. There are a few specifications to look at:

Amplifier Specs to Consider:

Car amplifiers will list RMS power, which is the steady power level the amp will produce, and peak power, which is the maximum power your car amplifier can produce in short bursts. Match the power rating on the amp to your car speakers to prevent damaging the speakers.

Low-pass filters provide better low-frequency bass sounds.

High-pass filters provide better high- and mid-range treble sounds.

A pre-amp is a second car amplifier hooked up in sequence to your car stereo for an even bigger sound.

Speakers

You can decide how powerful, and how numerous, you want your speakers to be. Be sure that your car stereo amp levels are set to match your speakers' power levels to prevent speaker blowout. Car speakers for your car stereo come in two basic types:

Types of Car Speakers:

Full-range car speakers reproduce the full range of sound frequencies.

Component car speakers reproduce much higher quality sound in specific ranges: car sub-woofer (lowest frequencies), woofers, mid-range speakers, tweeters, and super tweeters (highest frequencies).

Car Subwoofers

Subwoofers need to be big to get those low notes right, so a serious car stereo system includes trunk-mounted subwoofers. The cone material and car subwoofer enclosure will also affect the sound. You also may need to adjust power levels from your amplifier to help reduce excessive vibration in your vehicle.

Additional Components

Some car stereo systems include DVD players or GPS navigation units. Many also have auxiliary inputs, meaning you can connect your iPod and MP3 players to your car stereo. Make your car stereo a multimedia center.

Bluetooth

New car stereos are Bluetooth compatible, allowing you to connect a cell phone, laptop, or other Bluetooth-enabled devices to make hands-free calls or otherwise interact with your car stereo.

Mobile Video

Add mobile video systems to your car stereo for those long road trips. It'll keep the kids entertained and adds significant value to your vehicle.