Car Seat Buying Guide
by Andrea Sparks
When you have a new baby, you need a car seat for the first time you bring your baby home and every outing thereafter. It's important to make a good decision when it comes to the safety of your child. There are many makes and models of baby car seats to choose from, but there are three main types: infant car seats, convertible car seats and booster seats. As your baby grows, your baby gear will need to be updated. When you bring your newborn home from the hospital, you will need an infant car seat, but by the time you drop your child off on the first day of school, he or she will be big enough for a booster seat. This car seat buying guide can help you understand the purposes of different car seats.
Choosing a Car Seat: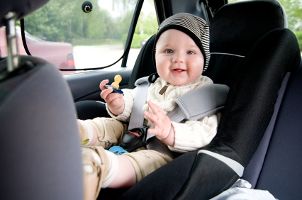 Shop Car Seats ▸
Infant car seats:

Infant should always ride in rear-facing car seats. Infant car seats are meant for use from birth until your baby reaches the height and weight limits of the seat, typically 22 to 30 pounds (6 to 9 months), depending on the model of the car seat. Infant car seats are small and typically have handles for carrying. Some infant car seats come as part of a stroller or travel system. It's a good idea to buy more than one base for use in additional vehicles. Infant car seats are safer than convertible car seats for newborns and babies who weigh less than 30 pounds. You'll need to switch to a convertible car seat once your baby outgrows the infant car seat.

Convertible car seats:

Either rear-facing or forward-facing, convertible car seats can be positioned as your baby grows. This extends the useful life span of your car seat. Convertible car seats have higher rear-facing maximum weight and height limits (1 year or up to 35 pounds) than infant seats. You should use your convertible car seat in the rear-facing position for as long as possible, as this is the safest way for your baby to travel. Some convertible car seats have as many as five different reclining positions to keep your baby optimally positioned for safety. The incline should be adjusted as close to 45 degrees as possible for maximum safety. Convertible car seats are larger and heavier than infant car seats and do not come with carrying handles or a separate base, but they can accommodate toddlers up to 40 pounds or more. This means that you won't have to buy a new car seat when your baby becomes a toddler.

Booster car seats:

Whether you decide to go with a convertible car seat or a front-facing toddler seat, eventually you will need to move up in size to a booster seat. Inevitably, your child will exceed the height and weight limits of harness-system car seats. Booster seats make your child tall enough to be able to safely use your car's seat belts. The seat belt should fit across your child's sternum (not the neck) and low across the upper thigh (not the stomach). Booster car seats should be used until your child exceeds 80 pounds and 57 inches because 57 inches in height is the minimum height requirement for your car's seat belts. Children under 13 years old should always ride in the back seat and use over-the-shoulder safety belts -- never just a lap belt.

Front-facing toddler seats:

Toddler car seats are similar to convertible car seats but can only be used in the front-facing position. Front-facing toddler seats use a built-in harness system similar to those of infant and convertible car seats, but when your child reaches 40 pounds or more, the harness can be removed and the seat converted into a booster seat so your child can be positioned safely for use of your car's seat belts.