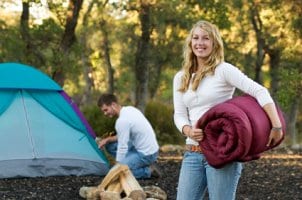 You don't have to be uncomfortable to enjoy the outdoors. A lot of camping equipment is designed to be compact and light; that's perfect if you're planning on hiking in to a campsite. However, while light and compact is great when you're hiking, it's not always ideal once you set up camp. If you're planning on driving to a site and camping near your car, there's no sense in buying fast and light camping gear. The beauty of car camping is that you can bring along luxury camping equipment, items that enable you to enjoy the outdoors in comfort. Keep reading for more information on a few pieces of car camping gear that will make your next foray into the outdoors more comfortable than ever.
Car Camping Equipment:

Camp shower: If you enjoy taking hot showers at home, why not take hot showers while you're camping? You can find a number of different camp showers on the market. Some camp showers come complete with electric or propane-powered water heaters, while others are simply bags of water that you hang in the sun.

Oversized sleeping bag: Sleeping bags are fairly comfortable, but they do make it difficult to stretch out or move around when you're sleeping. If you have plenty of room in your car to pack camping gear, why not pack an extra-long, oversized sleeping bag?

Giant tent: A giant tent, like an 8-person tent or even a 12-person tent, will let you enjoy yourself in the outdoors even when the weather is foul. You can curl up with your friends or family in your giant tent, playing cards or reading a book with plenty of room to stretch out as you wait for the rain to pass.

Air mattress: Sleeping out under the stars is wonderful, but waking up with an aching back is not. With the right camping equipment, like an air mattress or a camp cot, you can sleep under the stars on a soft, supportive surface. Many air mattresses come with self inflators that you can hook up to your car, making setup a cinch.

Two-burner stove: Camp fires are a must when you're camping, but cooking on them can be difficult. A two-burner propane stove allows you to make careful adjustments as you cook up your morning feast of bacon and eggs or your evening Dutch oven masterpiece.

Buy Camping Gear
Back to Guides Directory