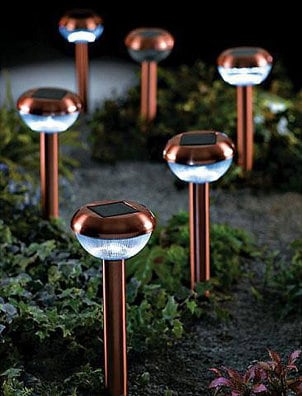 Adding lighting to your yard can really increase the beauty of your landscaping and make it easier to enjoy at night. Just like planting your garden or landscaping your backyard, planning outdoor lighting is an art form. You'll want to place your garden lights in all the right places and make sure you have the best lights for your yard. Read the following tips about buying quality garden lighting to make your backyard a beautiful escape.
Buying Garden Lighting:

Consider solar: Using solar lights is an increasingly popular choice for outdoor lighting. Solar lights can be placed anywhere throughout your yard, and you don't have to worry about finding a power source since the lights get power directly from sunlight. Solar lights range from small pathway lights to bright spotlights and even strings of patio lights.

Durability: Whether you choose solar, battery-powered or wire-in lighting, you'll want to make sure all of your garden lights are durable. Garden lights need to be able to withstand weather, daily use and bumps from lawnmowers and playing children. Look for lights made of metal or heavier plastics that won't break easily.

Garden and yard: The types of lights you choose should complement the area of your yard you place them in. Line a walkway with stake lights or hanging lanterns, and use spotlights to highlight trees, rocks and other large landscaping elements. The lighting you use to illuminate your landscaping should be subtle to create a magical effect in your garden, not drown it out.

Patio lighting: Patio lights need to cast more light than the landscaping lights in your garden, especially if you are entertaining guests. You can use mounted spotlights to cast enough light for guests at outdoor parties and barbecues to see. You don't want to forget effect lighting, however. Outdoor string lights look good strung above a patio or deck or along a fence line.

Sensors and timers: When you buy quality garden lights, you want them to turn on at just the right time. Outdoor lighting with sensors and timers will turn on automatically; you don't even have to flip a switch. Most solar lights have sensors to detect dim light, and many wire-in lights can do the same. You can even find garden lights with motion sensors to turn on when you walk outside.

Buy Garden Lighting
Back to Guides Directory