Buying Guide for Recycled Golf Balls
by Staff Writer
Recycled sports equipment can help you reduce the impact your hobby has on the environment. When you hit the links, you can play a greener game with your choice of golf balls by choosing recycled. Recycled golf balls are actually just slightly used golf balls that have been collected, sorted, cleaned, and resold at a low price. This guide will help you understand where recycled golf balls come from and what effect they can have on your game.
Recycled Golf Ball Information: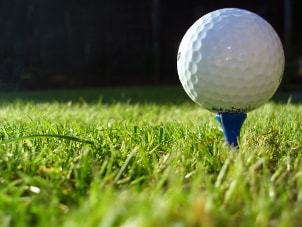 Shop Golf Balls ▸
Benefits of recycled golf balls:

By buying used golf balls, you help reduce the demand for newly manufactured balls. For the casual golfer, recycled balls play just as well as new ones, and the difference in price adds some efficiency to your budget, which means you won't feel as bad if you lose a recycled ball.

Sources of recycled balls:

Recycled golf balls are born from hooks and slices in some unlucky player's golf shot. Golf courses round up the lost balls, which are then cleaned, sorted, and graded based on their condition. Different grades of recycled golf balls sell in a range of prices well below new balls.

Recycled golf ball grades:

Depending on its condition, each recycled ball is assigned a grade. All grades of recycled golf balls may have corporate logos, brand names, or markings made by players.

Golf ball grades

Excellent: Top-grade golf balls look nearly identical to a new golf ball straight out of the box. These golf balls have probably seen only one or two golf shots and play very well.

Good: Second-grade used golf balls are still in very good condition and have only very minor blemishes. These balls have likely only been played for a few holes.

Fair: Fair-quality recycled golf balls show some signs of wear and have probably seen at least the front nine or possibly a few rounds.

Practice: Lower quality balls will show many signs of wear and are probably best for practice or teaching someone to play golf.
Golf Ball Tips from Overstock™
If you decide to use recycled golf balls most of the time, you may still want to have some new balls, too. Keep a few pristine golf balls in a designated pocket in your golf bag to use when you want to impress your opponent or hit an especially difficult shot.