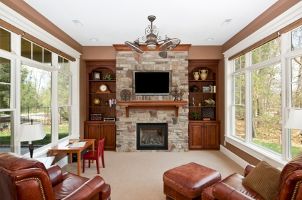 Keep your home cool during the hottest weather when you buy durable fans for your family room. Brighten a dim room with a lighted ceiling fan or find ceiling fans that feature leaf-shaped fan blades for a more laid-back look. No matter which style you like best, you can buy ceiling fans that fit the size and decor of your room. Read on for tips on buying fans for your family room.
Buying a Ceiling Fan:

Find a remote-control ceiling fan for convenience. If you have a large family room and don't want to get up to turn on your ceiling fan during the movie you're watching, why not install a remote-control ceiling fan? You can manage the speed of your remote-control ceiling fan, dim the lights, if it's a lighted ceiling fan, and turn it off with just a few buttons. The best ceiling fan will be simple to use and will be quiet enough that it doesn't interfere with your activities.

Buy a hugger ceiling fan for a low ceiling. Whether you have a low ceiling or simply want an indoor ceiling fan that won't get in your way as you play pool, hugger ceiling fans are a great option. These models are installed nearly flush with the ceiling, which saves you room, and come in many different colors and styles. However, because hugger ceiling fans are hung so close to the ceiling, the air flow is slower and your family room may not cool as quickly. You may want to consider installing another indoor ceiling fan in the room for better air circulation.

Shop for a lighted ceiling fan. When the lamps and existing light fixtures still don't make your family room bright enough, consider investing in a lighted ceiling fan. You can buy ceiling fans that feature four light fixtures or more for a chandelier style or find a model with a central light for a classic look. The best ceiling fan will give you plenty of light but won't distract from the rest of the room or get in the way.

Look for a finish you like. Once you've decided on the features and design you want your ceiling fan to have, it's time to find a style in a finish that suits your family room. Buy brushed nickel ceiling fans to complement a contemporary style or find a wooden fan that works with classic decor. Steel or aluminum fans will give your home a cool industrial feel, and brushed nickel ceiling fans with black blades will also work in a home decorated with vintage furniture and accents.

Buy Ceiling Fans
Back to Guides Directory