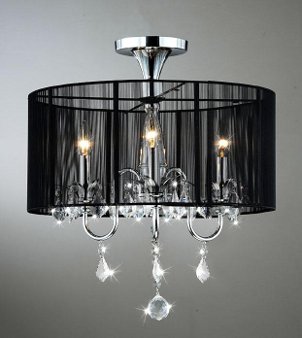 Chandeliers are the ultimate statement piece in a house. From giant crystal chandeliers that hang from high ceilings to simple styles that reside over a family dining table, lighting fixtures have the ability to make a room glow. A chandelier that is not right for your space can seem weighed down and heavy. The wrong chandelier can also lack drama that helps make a room fabulous. If your chandelier is looking old and outdated, it might be time to update with a new style.
Buying a Chandelier:

Pick a style. Before you start shopping, decide on a style that fits your dining room. If you have a space with a rustic vibe, look for something made of bronze or iron with faux-candle lights to make a room feel warm without being too modern. For homes that embrace contemporary style, a shiny chrome chandelier with a black shade and hanging crystals looks sleek hanging over a basic table. If a simple hanging light fixture is the look you're going for, check out variations of pendant chandeliers. For more information, read this guide on choosing a chandelier for your home.

Assess your installation situation. Most chandeliers need to be hard-wired to your electrical system. If your chandelier will be replacing an old one, your home is already hard-wired and ready for a new light fixture. Just switch the lights out yourself or get someone with experience to help you out. If you'll be hanging a light fixture from a place that was previously uninhabited by electrical wiring, you will need to wire the space to accommodate the new light. This should be left up to a professional electrician.

Salvage replacement pieces from your old fixture. Before you toss out your old chandelier, see if you can repurpose it. A fresh coat of spray paint in a bright color will give your old fixture new life so it can be hung in the bedroom. If your old chandelier has hanging crystals that are still in good condition, take them off and save them somewhere. They can be used to replace crystals on your new chandelier if anything happens to it.

Buy Chandeliers
Back to Guides Directory