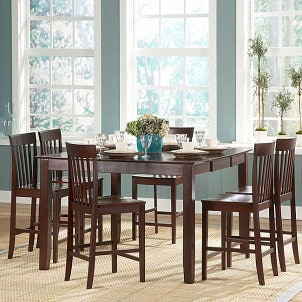 Purchasing quality dining room furniture initially seems straightforward and simple, but unless you do some advance planning, it can turn into quite the ordeal. What kind of style should you buy? What else besides a table and set of chairs goes with your dining room furniture set? If you have all the facts and do your research on dining room furniture, you can make your dining room the crowning jewel of your home. A properly decorated dining room creates the perfect kind of atmosphere for your candlelight suppers or large celebrations. Keep reading for tips on buying a complete dining room furniture set.
Buying Dining Room Furniture:

Decide on style. You need to consider the current style of your home and your own personal taste. Is your home decor modern, traditional or country? It doesn't really matter what kind of style your home already has since there are dining room furniture sets to match all styles, but it's important to match your new dining room furniture to your home's already existing style. You want your new dining furniture to accentuate your home. If you purchase clashing furniture, no matter how nice, your new dining room furniture won't look right when it's assembled and ready for use.

Measure your space. Your dining room furniture should make a smooth transition from the store to your dining room. You want it to feel like a natural extension of the room. A cramped dining room makes for uncomfortable guests and will also make your dining room look smaller than it really is. On the other hand, your dining room furniture will also look out of place if it's too small for your dining room. By measuring your available space and limiting yourself to that space, you can eliminate undesirable furniture sets, saving you time in your search for the perfect dining table and chairs. In addition, be sure to allow extra room for guests and yourself to walk around the table so you can comfortably seat and serve dinner to your guests.

Decide what to include in your dining room furniture set. Now that you know how much room you'll need and what kind of style you want, it's time to decide on what pieces to include in your dining room furniture set. Start with the number of dining chairs you'll need on a regular basis and then think about investing in a few more to accommodate extra guests. In addition to your dining table and chairs, you also have the option of adding a buffet or china cabinet. You can store special occasion dishes, like fine china or wine glasses, in your buffet or china cabinet and leave them on display for guests to admire.

Buy Dining Room and Bar Furniture
Back to Guides Directory