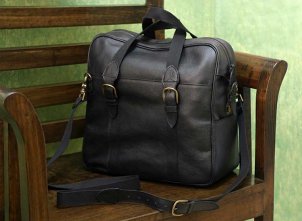 The way you choose to carry your work speaks volumes about you professionally. A good business case can make all the difference in the respect shown to you by the colleagues in your business organization. It makes sense, too; your choice of briefcase or laptop bag shows the level of business concern you have for your work. Of course, the admiration of your co-workers isn't the only benefit provided by a great business case. The right briefcase can also help you stay organized and may even add an underlying dash of style to your work life. Picking the right bag requires a number of considerations, but it doesn't have to be complicated. Save the hard work for when you're on the clock: finding a perfect travel bag, laptop bag or luggage shouldn't be a confusing mess of frustration. To simplify the task of finding a good bag for your needs, break it down. You will want to consider several attributes for your new business case or travel bag, including how you will be using it, the sort of shell that best suits you, your preferred material and the carrying style that will fit your work.
Buying Business Cases:

Business case uses: With the world changing more often than you punch in, it's no surprise that business styles are evolving as well. Countless jobs call for the use of business luggage and bags, and for every one of those jobs, there are even more possibilities as to how business cases can be used. Before picking a new briefcase, think about the tasks you will be using it for.

Papers and files: Briefcases earned their name for carrying paper briefs for lawyers, and they are still used for such purposes today. Because document protection and organization are just as important to businesspeople now as ever, there is no shortage of excellent options for paper-focused briefcases. When looking for a business case to fill with corporate documents and communication files, look for a few key attributes. First, what sort of organization and management does the case offer? Generally, if you are looking to fill a briefcase with papers, you will want one with multiple file dividers for goal setting. Be careful, however, to find a case with spacious, easy-access file dividers of quality construction. Next, look for a business case with the ability to adequately store other work-related items. Small pockets are excellent for pens, paper clips and other items to get the job done.

Laptop bags: If the files you're concerned about carrying are clickable, you will want to find a good laptop bag. Laptop cases are produced in a variety of styles, so it's good to know the differences of some of the more popular types selling today. The two most sought-after styles of laptop bags are computer briefcases and top-loading bags. Computer briefcases operate similarly to traditional briefcases but offer more room and padding to keep your laptop safe. A worthwhile computer briefcase will provide you with space for your laptop as well as its accessories, such as its power adapter and mouse. Top-loading laptop bags are perfect for the traveling businessperson or busy college student. These bags open from the top, giving you easy access to your laptop, contract, report or newspaper and other items. For the seasoned traveler, this means less hassle with airport security, and for the student, this means an excellent desk-side companion.

Business case shells: Different business cases offer different methods of protecting your things, but the two basic types you will need to choose from are hard cases and soft cases. The classic briefcase style is generally produced with a hard casing. Business cases with hard shells often provide a good level of security for your work. Hard-cased business cases are highly durable, making them excellent for the abuse often associated with travel. Soft business cases offer a wide range of benefits, from being more transportation-friendly (your fellow passengers' shins will thank you) to providing more flexible space for the things your expertise requires you to carry. Soft laptop bags are often built with more padding to provide extra protection for your valuable electronic devices. Another case with soft construction is the brief bag, which is a hybrid of the more traditional hard briefcase and the flexibility of a soft business case.

Business case materials: Business cases are offered in a variety of material options. Choosing a material for your briefcase will depend on your durability desires and personal style.

Business Case Material Options

Leather: Leather is easily the most popular choice for briefcases. This classic material offers a look of refined professionalism that's difficult to mimic. Leather is also proven to be extremely durable, meaning it can last for years. However, in order to maintain a leather business case that looks as good as the day you bought it, you will need to take special care of it with a quality leather cleaning kit.

Vinyl: Vinyl business cases have a similarly professional feel to those constructed in leather but are often less expensive and require less maintenance. Vinyl briefcases are offered in a large variety of colors, as well.

Fabric: Most soft briefcases are constructed from soft fabrics. Look for nylon and canvas bags to be long-lasting in addition to affordable. When you choose a fabric business case, make sure it offers enough padding to protect your papers and documents.

Plastic: Plastic business cases are available in many shapes, styles, colors and sizes. Plastic is both affordable and durable.

Business case carrying styles: The three most prevalent carrying styles are briefcases with handles briefcases with shoulder straps and the no-handle envelope fashion. Traditional briefcases are most often designed to be carried by hand with short, top-connected handles. This style of case is great for the businessperson who drives or has a short commute to and from their place of work. Business cases with shoulder straps are designed to be used by those who have a long way to carry their documents and laptops. When walking or riding a bus or train, a shoulder strap can be a lifesaver. Just make sure the briefcase you pick has a sufficiently padded shoulder strap to keep a sore upper-arm from ruining your work day. Many business cases are designed to be worn across the body. These cases are called messenger bags and can evenly distribute the weight of a heavy laptop. Depending on the atmosphere in your workplace, you may also want to consider a backpack.
Tip from Overstock.com:

To improve your work, go beyond a basic business case with organizational items and leisure-time luggage. A day planner can be just as vital as a briefcase, so pick one up when you are shopping for other business essentials. If you want to balance the sedentary time you spend at work with a lot of moving around, invest in a new duffel bag and keep it packed with gym clothes. Pack a duffel bag and head to the gym for an intense game of basketball or a relaxing swim. You'll be surprised at how much your work improves with your increased energy levels.

Buy Business Cases
Back to Guides Directory