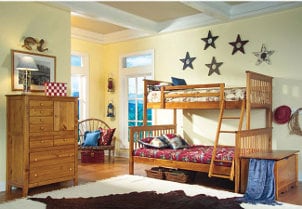 Bunk beds are part of every kid's fantasy bedroom. Kids' beds come in a wide variety of designs, styles, colors and even shapes. When you're ready to make dreams come true, it's time to start shopping for bunk beds. With a little research, you'll be ready to make a bedroom furniture decision that's right for you and your kids.
Buying Bunk Beds:

Convenient bedroom furniture: Bunk beds are not only fun; they're practical, too. Whether you have two kids sharing a room or one child who likes to host sleepovers, you'll appreciate having an extra bed that doesn't take up any extra floor space. When kids share a room, it's important to give each of them a sense of personal space; bunk beds make possible what's hard to achieve when beds are side-by-side. Bunk beds can also give a child a sense of independence; letting them choose which bunk to sleep in, whether a guest is present or not, helps them learn to make choices.

Bunk bed sizes: Bunk beds are available in several standard sizes. The most common size is twin-over-twin. The most basic bunk bed configuration stacks one twin-size bed directly above a second twin-size bed, with room for a person to sit upright on the bottom bunk. To make bunk beds feel more playful, you can turn one perpendicular to the other to form an "L" shape. Keep in mind that configuring bunk beds in an "L" takes up more floor space than the traditional design. There are also bunk beds that stack a twin on top of a queen-size mattress, and this design works well for guests or for older children who prefer a larger bed.

Bunk bed styles: If you have an older child with his own room, consider a top bunk positioned over a desk; this creates a study space where there would otherwise only be room for sleeping. If a desk is unnecessary, you can put a dresser in the place of the bottom bunk. Any teenager worth her salt can put extra storage space to good use.

Making use of space: Are you looking to make better use of a guest room? Look into a bunk bed that includes a futon. In some bunk beds, you can convert the bottom bunk into a couch during the day and back into a bed at night. Now you don't have to choose between having a guest room and a family TV room; a futon bunk bed provides the best of both worlds!
Bunk Bed Tip from Overstock.com:

If you're buying bunk beds, it's also a good time to buy bedding. Use the bunk beds to tie the room together by choosing two sets of bedding that are either identical or complementary in some way, like coordinating colors, different African animal motifs or anything that strikes your fancy.

Buy Kids Beds
Back to Guides Directory