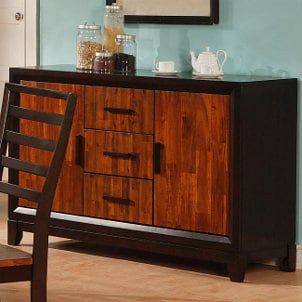 Preparing and serving home-cooked meals is an incomparable joy, especially when it all goes smoothly. The secret to ensuring a smooth, effortless meal is adequate space -- storage space for dishes and utensils and space to serve the entrees. That's why buffets make such popular pieces of dining room furniture. And thanks to their size, shape and storage utility, buffets are also versatile accent tables that are useful just about anywhere. Vocabulary might have something to do with the reason buffet tables aren't put to more use outside the dining room, but this dining room furniture can be used in many different ways throughout your home. Consider these tips when buying and using buffet tables and other dining room tables.
Buying a Buffet:

Buffet history: The modern buffet table is relatively young among dining furniture, dating roughly to the second half of the 18th century with French roots. Before that, the term "buffet" was used to describe any furniture -- movable, fixed or built-in -- that featured a large, flat surface for serving meals and space for storing and displaying fine dinnerware. Big-name cabinetmakers like Thomas Chippendale, George Hepplewhite, John Shearer and Thomas Sheraton put the buffet table on the dining table map with lavish, rococo-inspired storage and dining room tables. Since that time, buffet furniture has been remixed in terms of style, material and storage options.

Buffet shelves: While practically all buffets have shelves, some dining table buffets feature open shelving as the most prominent storage option. Shelf-heavy consoles and buffets are at their most useful when they keep your everyday items near at hand. When you're after dining furniture that doubles as display, buffets in this category can't be beat. Just be sure that your shelf-height can accommodate the treasures you want to flaunt. You'll be happy you did when that well-placed crystal vase catches the 6 o'clock sun and impels your guests to "ooh" and "ahh."

Buffet cabinets: For valuable items that you'd like to store behind glass or for simple storage that won't interfere with your decor, choose a buffet with cabinet doors in glass, frosted glass, finished rubberwood or hand-painted oak. If your buffet is headed for the hallway or any area with foot traffic, sideboard cabinets with sliding glass doors won't get in your way, whereas opaque, hinged cabinet doors are great for storing media beneath a buffet used as an entertainment console.

Buffet wine racks or cellarets: Nothing brings out the warm undertones of a buffet like a prominently-featured wine rack or cellaret. When you use it to store decanters, liquors and wine, it integrates a versatile bar into your room. And when the sideboard buffet's slots aren't occupied by wine bottles, you can use the tucked-away spaces to hold a heavy-duty corkscrew, sets of table linens, backup candles or even incoming and outgoing mail.

Hallway buffet: Buffets are usually confined to the dining room or kitchen. But that doesn't mean they can't be used elsewhere. Because of their shallow profile and dramatic length, buffets are fantastic at sprucing up a grand hallway. Play up the drama with an oversized, space-enhancing mirror or vibrant wall art. Combined with the right lighting, your hallway buffet can play a bright, supporting role in your home as a nexus from one area to another.

Home office buffet: If you're looking to add to your desk's storage space, the right credenza is storage-friendly and a good counterbalance. It's not hard to outgrow the built-in space most home-office desks have to offer, and if you find yourself frequently getting up to track down a binder or a book, it can be a problem. Check that your buffet has shelves to fit your reference material or a cabinet that can house your computer tower, your printer or other equipment.

Bedroom buffet: Consider placing a buffet in your bedroom to replace your dresser, especially if you need only modest dresser drawer space or an extended night table. As more homes upgrade their home entertainment with a flat-screen television set, buffets are filling a whole new function. Large televisions don't take up all of the table space, however, and the space that's left over treats your bedroom to an occasional table for a book in progress or a bowl for your keys, watches or rings. Meanwhile, the cupboards are good places to stash extra towels for the master bathroom as well as extra sheets for the bed.
Tip from Overstock.com:

Now that you've found the buffet table for you, put it to work. Stock it with special dinnerware, serveware and flatware. Using a sideboard as a bar is a classic way to start happy hour at your house. Complete the bar atmosphere with attractive bar stools and bar tables.

Buy Buffets
Back to Guides Directory