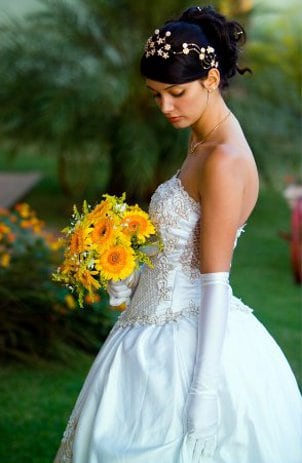 Bridal flowers and bouquets add color and beauty to weddings of all types. Customary bridal bouquets and fresh flowers add a wonderful aroma and touch of style to any ceremony or reception site, and most have symbolic meanings. Red roses, for instance, have always been associated with romance and love. Most brides prefer fresh flowers, but bridal flowers and bridal bouquets require a financial investment. Get the most out of your wedding flowers by choosing the best bouquets and flower types for the venue, style and season.
About Bridal Flowers:

Color: You have a wide range of options when shopping for bridal flowers; choosing the colors will help to narrow down the bridal bouquet choices. A conventional fresh bouquet consisting of mainly one color complements a formal bridal gown, whereas a sheaf or posy of multicolored flowers can tie in the colors of the venue decor or match the groom's attire.

Timely research: Seasonal flowers can be found easier and cost less than imported or out-of-season flowers. A variety of bridal bouquet flowers is available in each season. Research flower types and growing seasons to determine which flowers will be available during the time of your wedding.

Type: Roses and different lily types make sense for formal fresh bouquets, whereas sunflowers, daisies and sweet peas are perfect informal bridal bouquet flowers. Lilies or roses, available most seasons and carried as a sheaf, will also suit an informal gown. Hydrangeas can also be great wedding flowers: They are bulky, meaning you won't need to purchase as many. Plus, they are relatively inexpensive and available during spring or summer, two popular wedding seasons.

Suitability: Not all flowers are suitable for a bouquet, and flowers that wilt easily or are too fragile should be avoided when shopping for wedding flowers. Strong and long-lasting, beautiful roses, lilies, orchids, sunflowers and carnations make nice choices for bridal bouquets and boutonnieres.

Alternatives: In circumstances where fresh flowers won't be suitable or preferred, alternatives such as quality silk flowers, which give the impression of fresh flowers, can be used. You may consider supplementing fresh flowers with silk flowers to achieve dreamy decor for less.

Buy Fresh Flowers
Back to Guides Directory